EXT Review
Top 3 Forex Brokers
Our Review
EXT User Reviews
EXT News
Our Review Method
55Brokers Financial Experts with over 10 years of experience in Forex Trading check all trading offerings, regulations and licenses, fees, spreads, platforms, customer service, and placed traders to see trading conditions and give expert opinions about EXT.
What is EXT?
EXT is a European Forex trading company that provides access to more than 600,000 trading instruments on over 50 markets, including Forex, Stocks, ETFs, Metals, Futures, Options, Bonds, and more. It is headquartered in Limassol, Cyprus, and is regulated and authorized by the reputable European regulatory body CySEC.
According to our findings, the broker also holds a regulatory authorization from the Securities and Futures Commission of Hong Kong, allowing it to operate in the Asian and China market. Additionally, the company previously held a Top-tier license from FCA in the UK. However, due to Brexit, EXT has ceased accepting new customers for its UK business.
Overall, the company provides competitive trading conditions and low spreads, mainly designed for professionals. The broker has also developed proprietary trading platforms that are enhanced with advanced technology and a variety of trading tools.
EXT Pros and Cons
When considering EXT as your Forex trading broker, you should also carefully consider the benefits and drawbacks. One advantage is that the broker offers Direct Market Access to a wide range of trading instruments through a single comprehensive trading account. Additionally, its customer support is available 24/7, ensuring assistance whenever needed. The expansion to Hong Kong also makes EXT Broker an appealing choice for traders in the Asia-Pacific region.
For the cons, the broker's website lacks educational materials and seminars, which may not be suitable for traders seeking extensive learning resources. Moreover, the minimum deposit required is higher than the industry average. However, since EXT caters primarily to professional traders, this may not be a significant drawback for its target audience. Additionally, the broker does not hold a top-tier license, which could be a concern for traders who prioritize brokers with higher regulatory credentials. Also, you should be aware that trading conditions may vary depending on the entity, and market fluctuations can impact investment returns.
| Advantages | DIsadvantages |
| --- | --- |
| European license and oversee | No learning materials |
| Professional trading | High minimum deposit |
| Competitive spreads | Conditions might vary based on the entity |
| Proprietary trading platforms | |
| Trading instruments | |
| Direct Market Access | |
| 24/7 customer support | |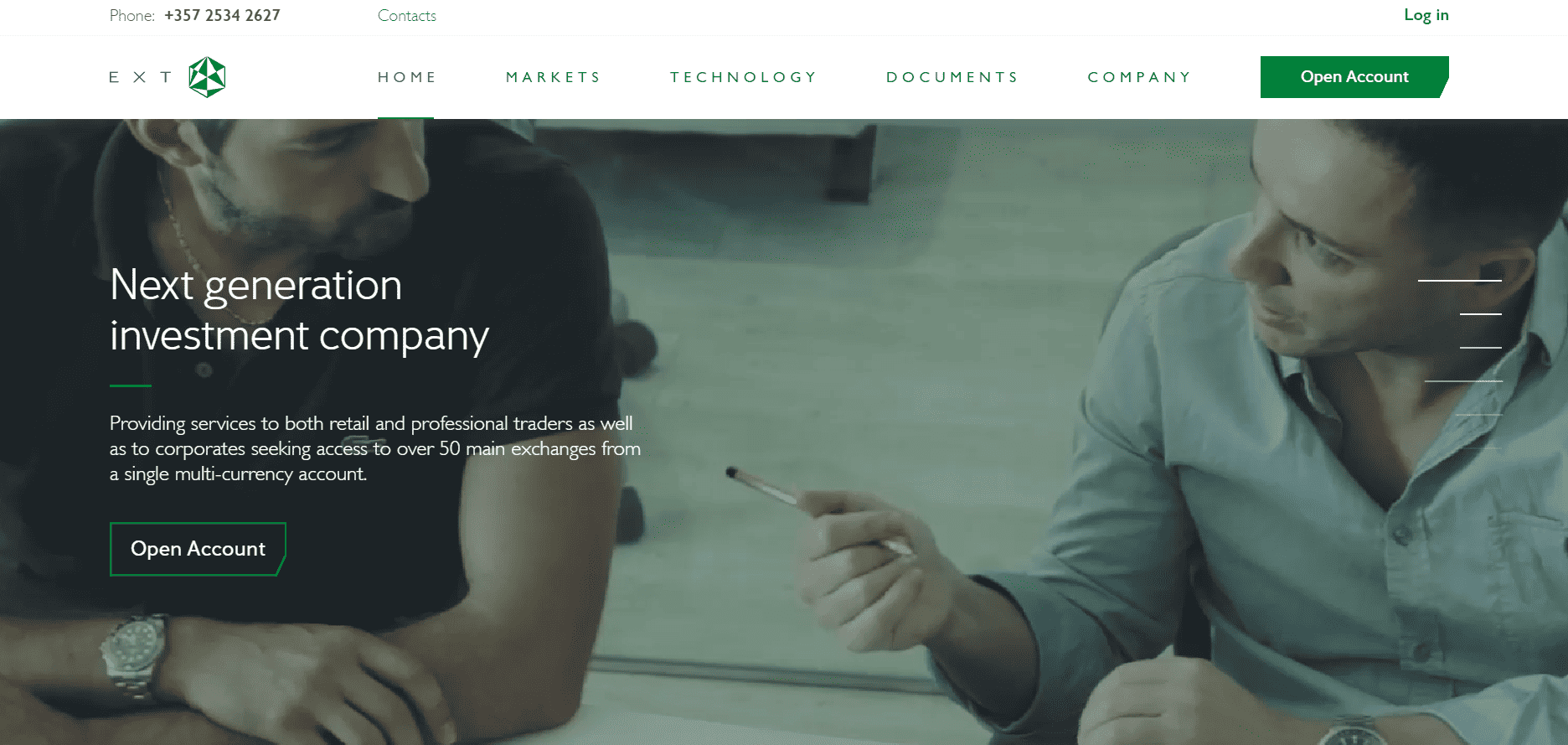 EXT Review Summary in 10 Points
| | |
| --- | --- |
| 🏢 Headquarters | Cyprus, Hong Kong |
| 🗺️ Regulation | CySEC, SFC |
| 🖥 Platforms | EXT proprietary platform, HTTP API, FIX API |
| 📉 Instruments | Forex, Stocks, ETFs, Metals, Futures, Options, Bonds, etc. |
| 💰 EUR/USD Spread | 0.3 pips |
| 🎮 Demo Account | Available |
| 💳 Minimum deposit | €10,000 |
| 💰 Base currencies | GBP, USD, EUR |
| 📚 Education | Limited |
| ☎ Customer Support | 24/7 |
Overall EXT Ranking
In our analysis and assessment, EXT is a trustworthy trading broker that caters to a wide range of clients, including retail and professional traders, as well as corporates. The broker's extensive selection of financial products, with competitive trading spreads and costs presents an appealing proposition to traders.
EXT Overall Ranking is 7.9 out of 10 based on our testing and compared to over 500 brokers, see Our Ranking below compared to other industry Leading Brokers.
| Ranking | EXT | CFI | AIMS |
| --- | --- | --- | --- |
| Our Ranking | ⭐⭐⭐⭐ | ⭐⭐⭐⭐⭐ | ⭐⭐⭐⭐⭐ |
| Advantage | Trading Instruments | Spreads | Trading Conditions |
EXT Alternative Brokers
Based on a thorough evaluation of several factors such as trading conditions, regulatory compliance, spreads, financial instruments, and user feedback, we have compiled a list of alternative brokers that could be considered as alternatives to EXT.
Is EXT Safe or Scam?
No, EXT is not a scam. Per our research, the broker is legitimate and trustworthy ensuring a low-risk trading environment. It is authorized and regulated by the well-regarded Cyprus Securities and Exchange Commission (CySEC). This regulatory authority imposes strict rules and regulations to ensure high standards in the financial industry. The fact that EXT operates under CySEC regulation instills an additional level of trust and confidence in the broker's operations.
Moreover, the broker has obtained an additional license in Hong Kong, which enables the broker to expand its operations and services in the Asian market.
Is EXT Legit?
Yes, EXT is a legit and regulated financial trading provider that follows the necessary regulations for offering Forex trading services. The broker's commitment to compliance with industry standards is evident through its regulation under a respected European authority.
However, before engaging in trading activities, you should consider the variations that can arise when trading in different jurisdictions, even if you are using the same broker.
See our conclusion on EXT Reliability:
Our Ranked EXT Trust Score is 8 out of 10 for the good reputation and services provided. Yet, assess your trading requirements, and preferences to determine whether the broker is a suitable fit for your specific needs.
| EXT Strong Points | EXT Weak Points |
| --- | --- |
| Professional trading | No top-tier license |
| European license | |
| Funds protection | |
| License in Hong Kong | |
Trading Accounts Protection
EXT implements various measures to protect its trading accounts. These typically include regulatory oversight, ensuring compliance with applicable rules and regulations. The broker also maintains fund protection mechanisms to keep client funds separate from the broker's operational funds. Moreover, risk management tools like stop-loss orders and negative balance protection may be provided to help manage trading risks effectively.
However, conduct thorough research and carefully examine the broker's documentation, legal agreements, and policies. This will provide a comprehensive understanding of the specific trading protections offered by the broker, as trading conditions can vary across jurisdictions.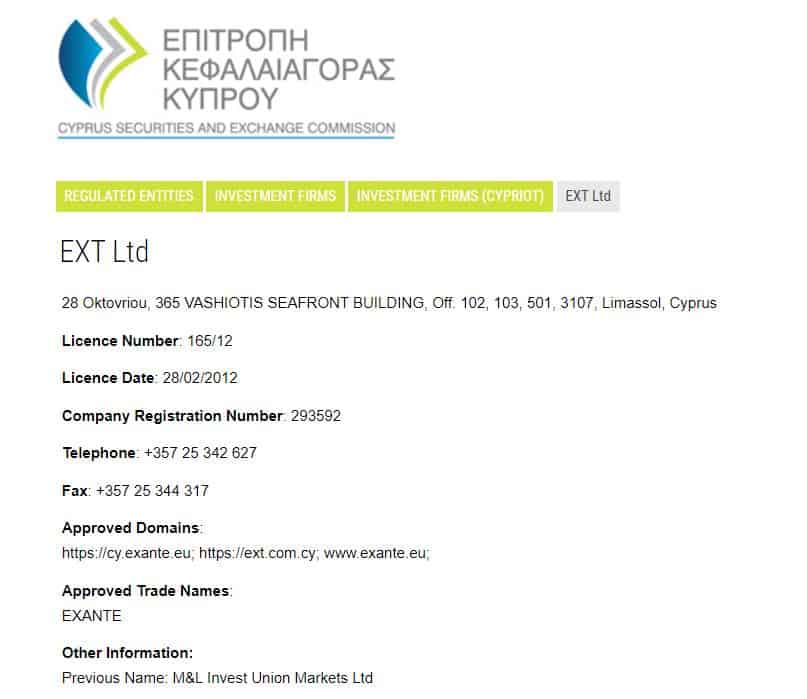 EXT Leverage
Leverage is a valuable tool that allows traders to participate in the market with a smaller amount of capital. While it can potentially result in significant profits, it is important to recognize that it can also lead to substantial losses. Therefore, you should have a thorough understanding of how it operates and the potential consequences associated with its use before engaging in any trading activities that involve leverage.
EXT leverage is offered according to the CySEC, and SFC regulations:
European traders are eligible to use a maximum of up to 1:30 for major currency pairs.
Traders may use higher leverage up to 1:500 on many FX pairs if hold an account with Hong Kong entity.
Account Types
According to our research, EXT provides traders with the choice between Individual and Corporate multi-currency accounts. These accounts offer specific features and trading conditions to cater to the needs of different traders. Therefore, we recommend referring to the broker's official website or contacting its customer support for detailed information on the specific account types offered by the broker.
| Pros | Cons |
| --- | --- |
| €10,000 minimum deposit | Minimum deposit amount higher than average |
| From €50,000 minimum deposit for corporate clients | |
| Fast and easy account opening | |
| Demo account | |
Opening EXT Trading Account
Opening an account with a broker is quite an easy process, as you can log in and register with EXT within minutes. Just follow the opening account or sign-in page and proceed with the guided steps:
Select and Click on the "Open Account" page
Enter the required personal data (Name, email, phone number, etc.)
Verify your personal data by upload of documentation (residential proof, ID, etc.)
Complete the electronic quiz confirming your trading experience
Once your account is activated and proven, follow with the money deposit.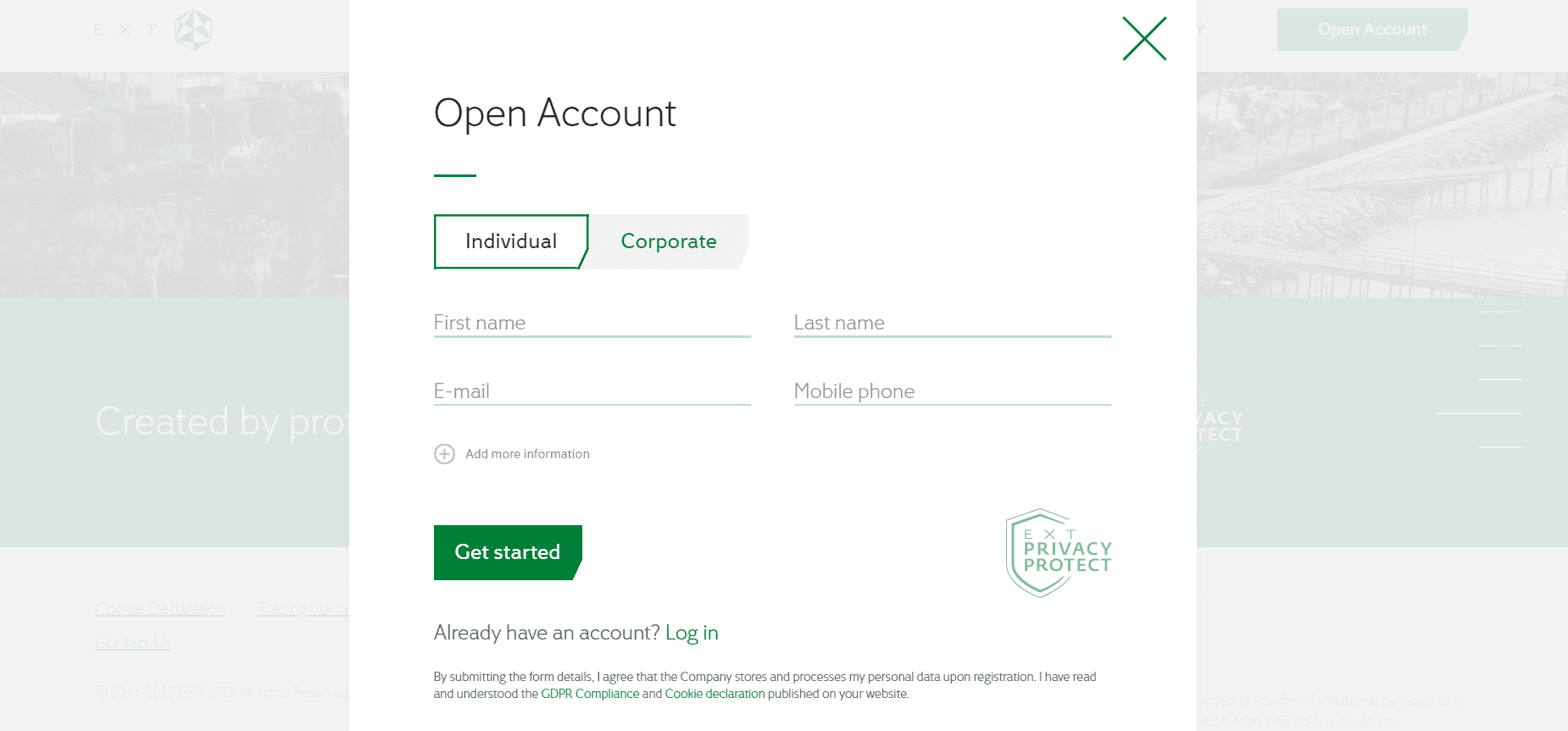 Trading Instruments
EXT offers a vast selection of trading instruments, with access to over 600,000 options across more than 50 markets. These include Forex, Stocks, ETFs, Metals, Futures, Options, Bonds, and more. However, the availability of specific trading instruments may vary based on the entity or jurisdiction you are trading with.
EXT Markets Range Score is 8.5 out of 10 for a wide range of trading product selections. On the other hand, we found that some popular asset classes such as Cryptocurrencies are not available to trade.

EXT Fees
Per our findings, the broker offers competitive pricing for the majority of its trading services. Moreover, EXT does not charge fees for deposits, but there is a withdrawal fee of €30 or its equivalent. Also, additional costs, such as an inactivity fee of €50 may apply if you have not executed a trade in the past six months and your account balance is below €5,000. Therefore, we recommend reviewing the broker's fee structure to gain a comprehensive understanding of the charges and their potential impact on your trading activities.
EXT Fees are ranked average with an overall rating of 7.9 out of 10 based on our testing and compared to over 500 other brokers.
| Fees | EXT Fees | CFI Fees | AIMS Fees |
| --- | --- | --- | --- |
| Deposit fee | No | No | No |
| Withdrawal fee | Yes | No | No |
| Inactivity fee | Yes | Yes | Yes |
| Fee ranking | Average | Low/Average | Average |

Spreads
Based on our test trade, EXT provides competitive and variable spreads, with an average spread of 0.3 pips for the EUR/USD currency pair in the Forex market. However, spreads can vary depending on factors such as market conditions, volatility, and liquidity. Therefore, to obtain accurate and comprehensive details regarding spreads, we recommend consulting the broker's official website or contacting their customer support.
EXT Spreads are ranked average with an overall rating of 8.5 out of 10 based on our testing comparison to other brokers. We found Forex spread lower than the industry average and spreads for other instruments are competitive too.
| Asset/ Pair | EXT Spread | CFI Spread | AIMS Spread |
| --- | --- | --- | --- |
| EUR USD Spread | 0.3 pips | 0.6 pips | 1.5 pips |
| Crude Oil WTI Spread | 3 | 2.6 | 3 |
| Gold Spread | 1 | 12 | 1 |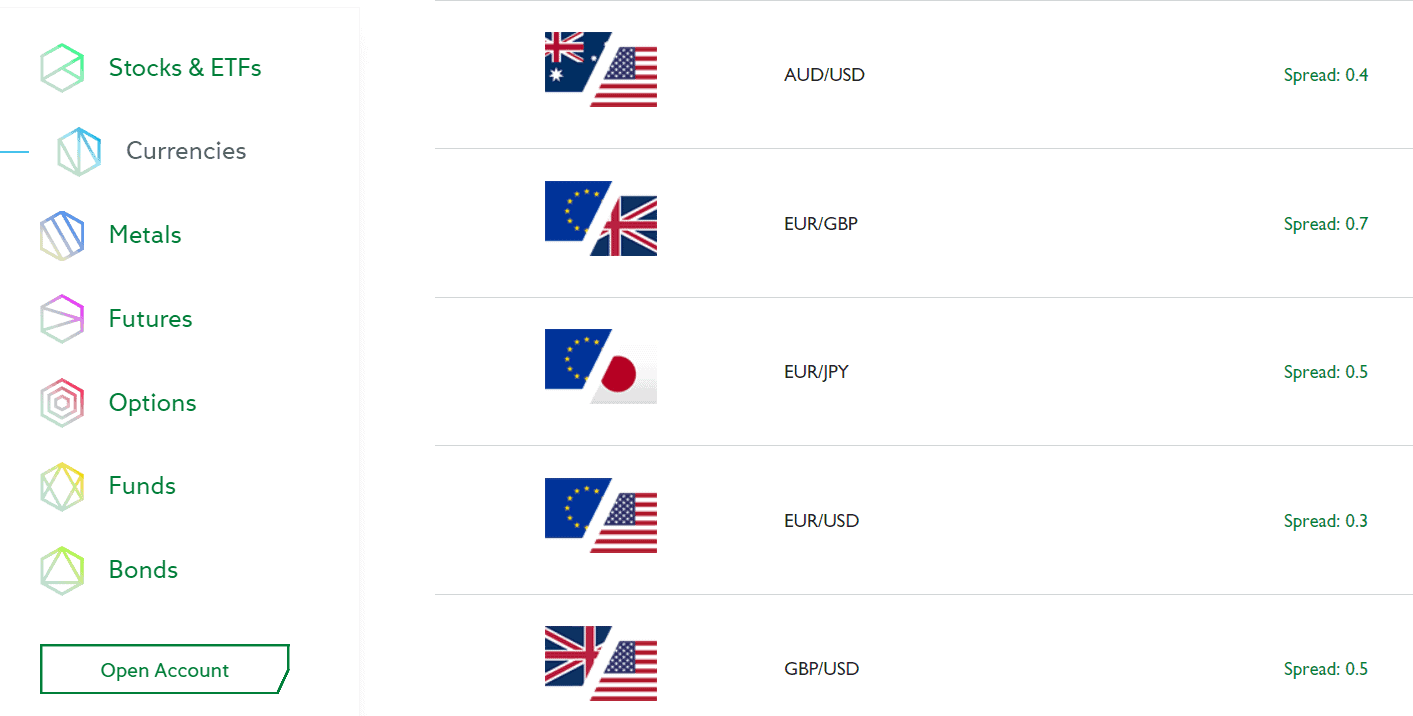 Deposits and Withdrawals
We found, that currently the broker solely offers its clients the option of using Bank transfers as a method to deposit funds into their trading accounts.
EXT Funding Methods we ranked good with an overall rating of 7 out of 10. Fees are low, and also you can benefit from various account-based currencies.
Here are some good and negative points for EXT funding methods found:
| Advantage | Disadvantage |
| --- | --- |
| Multiple account base currencies | Limited funding methods |
| Fast digital deposits | |
| No fees for deposits | |
EXT Minimum Deposit
To open a live trading account with the broker, clients need to deposit €10,000 as an initial deposit amount for Individual Accounts, which is higher than average. However, since the broker primarily serves professional traders, this deposit requirement is justified, making it an appealing offering for this target market. On the other hand, for Corporate Accounts, the minimum deposit amount starts from €50,000. 
EXT minimum deposit vs other brokers
| | | |
| --- | --- | --- |
| | EXT | Most Other Brokers |
| Minimum Deposit | €10,000 | $500 |
EXT Withdrawals
Based on our analysis, the broker typically processes withdrawal requests within one day, and clients can expect to receive their funds within 3-5 banking days. Also, there is a withdrawal fee of €30 or its equivalent for processing the withdrawal transaction.
Withdraw Money from EXT Step by Step:
To initiate a withdrawal fund from your trading account, the brokerage firm provides a set of typical steps that can be followed:
Login to your account
Select Withdraw Funds' in the menu tab
Enter the withdrawn amount
Choose the withdrawal method
Complete the electronic request with the requirements
Confirm withdrawal information and Submit
Check the current status of withdrawal through your Dashboard
Trading Platforms
Traders have access to the broker's proprietary EXT trading platform, along with HTTP API and FIX API solutions. The platform supports multiple devices, enabling users to trade on the web, desktop terminals operating on Windows, macOS, or Linux, as well as mobile devices such as iOS or Android smartphones.
EXT Platform is ranked good with an overall rating of 8 out of 10 compared to over 500 other brokers. We mark it as good since it provides a sophisticated trading platform equipped with advanced technological solutions, making it suitable for a wide range of trading strategies.
| Platforms | EXT Platforms | CFI Platforms | AIMS Platforms |
| --- | --- | --- | --- |
| MT4 | No | No | Yes |
| MT5 | No | Yes | No |
| cTrader | No | Yes | No |
| Own Platforms | Yes | No | No |
| Mobile Apps | Yes | Yes | Yes |
Trading Tools
We found that the broker's HTTP API facilitates the development of data-rich financial apps, ranging from intelligent messenger bots and option strategy advisors to mobile apps for market analysis and websites with stock tickers. It serves as a comprehensive market data source, empowering traders to fuel their trading strategies and visualize market quotes effectively.
For algorithmic traders, the FIX API presents a valuable opportunity for seamless trading. Supporting a FIX 4.4-based API, it enables data transfer, quote retrieval, and full-scale trading automation. This automation opens up a wealth of opportunities, allowing traders to go beyond the limitations of using only the trading UI and explore the full potential of algorithmic trading.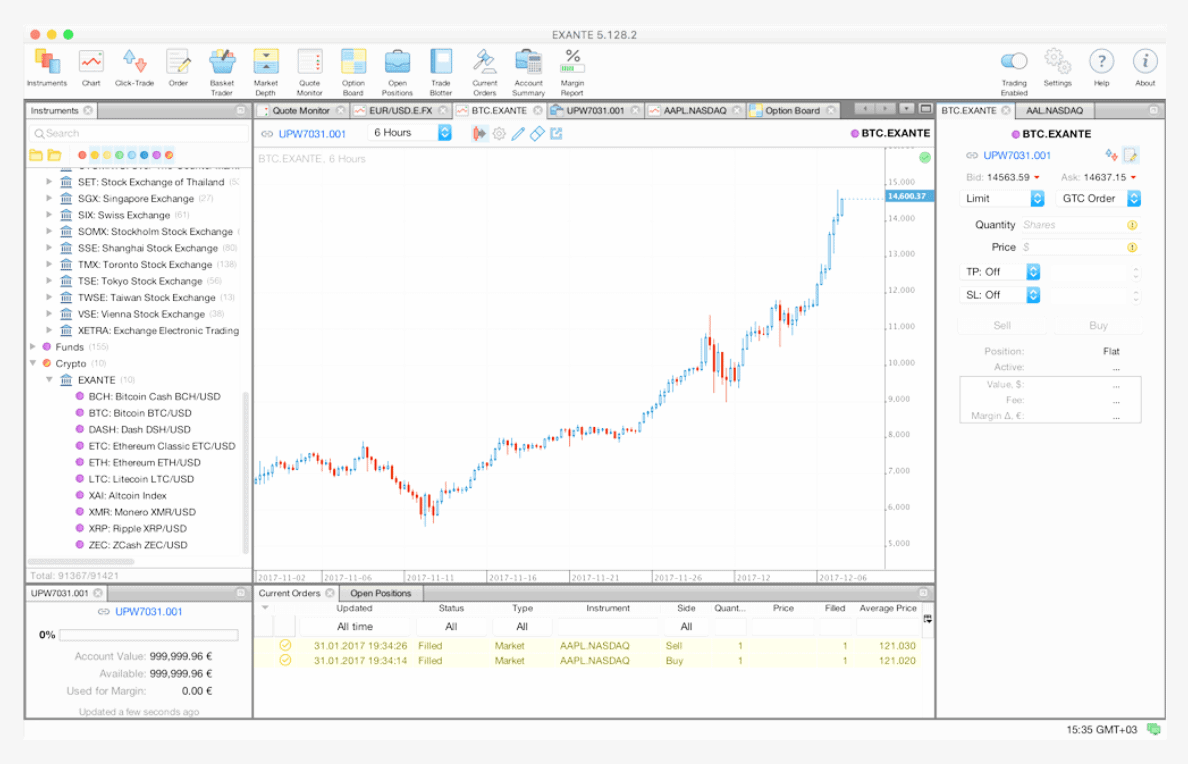 Customer Support
The broker offers 24/7 customer service through Phone, Email, and Fax. Also, the support team comprises experienced trading specialists who are available to provide technical support, offer recommendations, address general inquiries, and assist in resolving operational issues for clients.
Customer Support in EXT is ranked good with an overall rating of 8 out of 10 based on our testing. We got fast and knowledgeable responses, and also it is easy to reach during the working days and weekends.
See our find and ranking on Customer Service Quality:
| Pros | Cons |
| --- | --- |
| Email, phone line, fax | No live chat |
| 24/7 customer support | |
| Quick responses | |
EXT Education
Lastly, the broker falls short in providing educational and research materials, seminars, or webinars to its clients. This limited access to educational resources could be viewed as a disadvantage for traders who value extensive learning materials to improve their skills and knowledge in the financial markets.
EXT Education ranked with an overall rating of 6 out of 10 based on our research. As the broker caters primarily to professionals, the limited availability of educational materials may not be viewed as a significant drawback for their target audience. However, for traders seeking comprehensive learning resources, considering other brokers with a more extensive range of educational offerings would be a sensible decision.
EXT Review Conclusion
In conclusion, EXT is a reputable and regulated brokerage firm, that provides access to a diverse range of trading instruments across multiple markets. The broker's competitive trading conditions make it an attractive option for both individual and corporate clients. Additionally, the availability of the proprietary advanced trading platform and API solutions caters to various trading strategies, appealing to both retail and professional traders. Also, the broker's 24/7 customer support ensures that assistance is readily accessible.
Another advantage like its presence in both Europe and Asia provides expanded market opportunities, access to a diverse client base, advanced trading experience, and localized support.
However, there are some conditions that might not be suitable alike for beginning traders with broker's limited educational resources and quite high minimum deposit, yet may not be a concern for its target professional audience. Overall, we found that EXT provides a competitive trading environment, however, we advise conducting your research and evaluating whether the broker's offerings align with your trading needs.
Based on Our findings and Financial Expert Opinions EXT is Good for:
Professional trading
European traders
Traders from Hong Kong, China
Currency trading
Traders from the Asia Region
Corporate traders
STP/DMA Trading
Competitive spreads
Good trading tools
Auto trading
API trading
24/7 customer support