Forex Brokers China
Forex trading in China is a significant and active part of the country's financial system. As the world's second-largest economy, China forex market plays a crucial role in facilitating international trade, investment, and financial transactions. The country's official currency is Yan, which is used in worldwide commercial activities.
Platform for Forex Trading in China
So is Forex trading legal in China? Yes it is but subject to certain regulations and restrictions imposed by the Chinese government. The government closely monitors and regulates currency trading to maintain financial stability and control capital flows, therefore some limitations for the choice of Forex Platform or Trading are in place.
Forex trading platforms that operate within China are required to be licensed and regulated by the relevant authorities, such as the People's Bank of China (PBOC) or the State Administration of Foreign Exchange (SAFE).
 International brokerages can enter the domestic Forex market in China by establishing partnerships with local foreign exchange companies. These local companies serve as introductory brokers (IB), facilitating the establishment of a network of traders that operate mainly Internationally.
Due to China's strict monitoring of the forex market and its prohibition on brokers offering offshore services, instances of forex scams are relatively low. Nevertheless, it is still advisable to verify brokers' compliance with regulations and avoid unscrupulous entities.
For further information, visit Wikipedia page about forex market.
| China Trading Pros | China Trading Cons |
| --- | --- |
| Huge market and opportunities | Capital Controls |
| Well-regulated market | Limited broker Choices |
| Government Regulations | Language and Cultural Barrier |
| Technological Advancements | Leverage prohibition |
Forex Regulation in China
The foreign exchange market in China is controlled and regulated by two main bodies – the People's Bank of China (PBOC) and the State Administration of Foreign Exchange (SAFE).
For more info, here is the official website of the People's Bank of China is www.boc.cn also the official website of the State Administration of Foreign Exchange is www.safe.gov.cn.
Read some important information regarding Forex regulators in China with conditions of Trading or state of the market:
State Administration of Foreign Exchange (SAFE) requires range of transactions to have direct approval, therefore many of Forex Trading operations are controled by SAFE.
While The People's Bank of China provides its customers with a comprehensive range of financial services in direct investment, securities, insurance, funds, aircraft leasing, and other areas.
For Forex Brokers and Platforms many respected brokerages (like regulated by FCA or ASIC, etc.) establish operations in China typically by partnering with fully Chinese-owned companies or through direct ownership. This arrangement enables foreign Forex brokers to operate using Chinese infrastructure, yet subjects them to internet surveillance by the local government, so all operations are closely monitored
All companies operating within China, including forex brokerages, are required to report all overseas payments within the specified time frames. Failure to comply with these reporting requirements or other regulations Broker will be banned.
China prohibits brokers from offering offshore services within its territory. While there are some designated Free Trade Zones (FTZs) where offshore brokers can operate, it is important to verify the legitimacy of brokers before engaging.
However, Chinese residents are also restricted in terms of the amount of foreign currency they can exchange or remit overseas. Therefore some restrictions towards retail or professional traders are in place too
Individuals or entities found to be in violation of the restrictions in China may face a range of administrative and criminal penalties as outlined in the Administrative Regulations on Forex Exchange.
Chinese traders frequently opt to fund their live trading accounts using China UnionPay, WeChat Pay, or Alipay. These payment options are popular among traders in China however not many Brokers may accept them as deposit or withdrawals
Lastly, China implemented strict regulations on leverage in the forex. As a result, high leverage trading is completely banned in the country.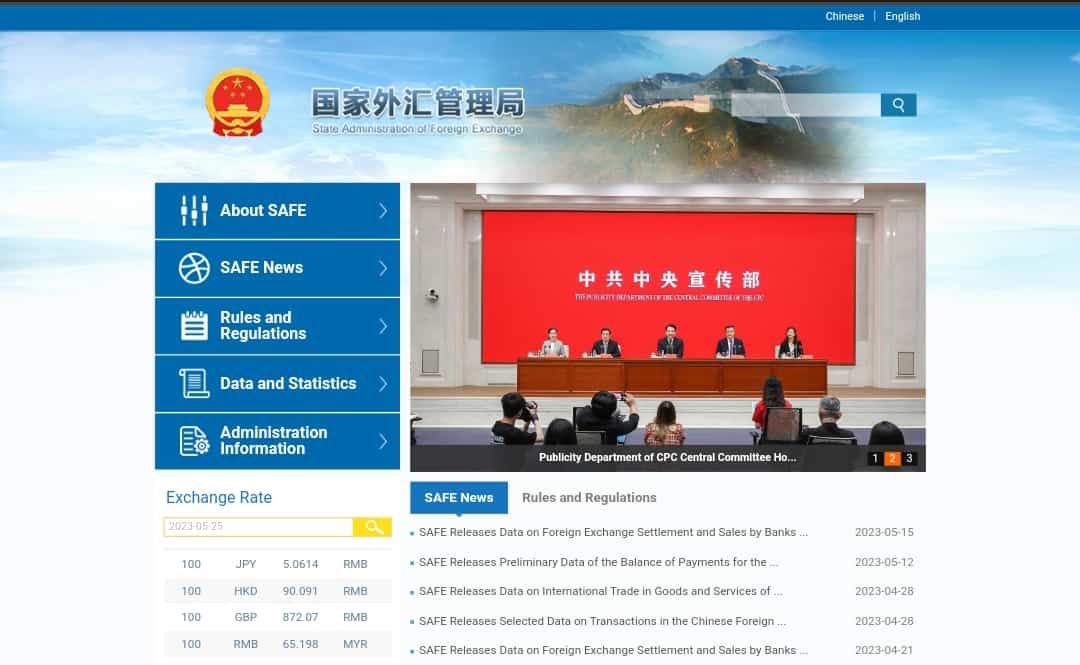 Top 5 Best Broker Forex in China
Our list of brokers in China exclusively features regulated brokers that are recommended and deemed safe for investment. These brokers have been carefully evaluated based on specific criteria and their Trust Scores, also ranked by us as good for Traders from China:
How to Start Trading in China?
Since Forex trading is available in China the most important part is choosing the right broker to get started trading suitable for beginners. First is important to verify if broker is trustworthy, then check all the trading conditions including the range of offered Instruments, accepted strategies, platforms, fees, better with good education and tools also customer support available in your native language.
List of Trading Brokers in China
This is the list of the internationally regulated brokers that are allowed to operate in China or accept clients from China:
Broker
Detail
HFM

Min. Deposit: 0 US$

Max. Leverage: 1:30 | 1:2000

Trading Platforms: MT4, MT5, HFM Trading App

Regulation: CySEC, FCA, DFSA, FSCA, FSA, CMA

HFM Review
BlackBull Markets

Min. Deposit: 0 US$

Max. Leverage: 1:500

Trading Platforms: MT4, MT5

Regulation: FMA, FSA

BlackBull Markets Review
FP Markets

Min. Deposit: 100 US$

Max. Leverage: 1:30

Trading Platforms: IRESS, MT4, MT5, cTrader

Regulation: ASIC, CySEC, St. Vincent and the Grenadines, FSP

FP Markets Review
Eightcap

Min. Deposit: 100 US$

Max. Leverage: 1:500

Trading Platforms: MT4, MT5, TradingView

Regulation: ASIC, SCB, CySEC, FCA

Eightcap Review
BDSwiss

Min. Deposit: 100 US$

Max. Leverage: 1:500

Trading Platforms: MT4, MT5, BDSwiss Webtrader and App

Regulation: FSC, FSA

BDSwiss Review
Pepperstone

Min. Deposit: 200 US$

Max. Leverage: 1:30 to 1:400

Trading Platforms: MT4, MT5, cTrader, TradingView

Regulation: ASIC, FCA, DFSA, SCB, CMA, CySEC, BaFIN

Pepperstone Review
Orbex

Min. Deposit: US$100

Max. Leverage: 1:500

Trading Platforms: MT4

Regulation: MFSC

Orbex Review
Fusion Markets

Min. Deposit: No minimum deposit

Max. Leverage: 1:30 | 1:500

Trading Platforms: MT4, MT5, cTrader, DupliTrade, Fusion+, Myfxbook AutoTrade

Regulation: ASIC, FSA, VFSC

Fusion Markets Review
InstaForex

Min. Deposit: 0 $

Max. Leverage: 1:30 | 1:1000

Trading Platforms: MT4, MT5, WebTrader, MobileTrader

Regulation: CySEC, FSC BVI, FSC

InstaForex Review
Vantage Markets

Min. Deposit: $50

Max. Leverage: 1:500

Trading Platforms: MT4, MT5, Protrader, WebTrader, Vantage app, Copy trading platforms

Regulation: FSCA, VFSC, ASIC, FCA

Vantage Markets Review