By Richard Tan, from Switzerland,
May 15, 2023 at 03:57 PM
TriumphFX Review TriumphFX www.triumphfx.com Regulation: CySEC, FSC, FSA HQ: Cyprus TriupmhFX Licenses Triumph Int. (Cyprus) Limited. – authorized by CySEC (Cyprus) number 293/16 Triumph Int. Limited – authorized by FSC (Vanuatu) license number: 17901 TRIUMPH INT. (SC) LIMITED – authorized by FSA (Seychelles) license number: SD080
Dear Sir / Madam, Above cut and paste above from your website – TriumphFX Review. It would be appreciated if you can share licenses for (1) Triumph Int. (Cyprus) limited, regulated by CySEC and (2) Triumph Int. (SC) Limited, regulated by FSA. Also, name of director listed under CySEC and FSA licences. TriumphFX Review implies TriumphFX owns Triumph Int. (Cyprus) Limited and Triumph Int. (SC) Limited, same company but with two different licenses, is this correct? Is there any documentation you can share on this? Thank you in advance and regards, Richard Tan
As you can see in our TriumphFX Review it is a Forex Broker based in Cyprus, while also Broker have two international entities. All licenses TriumphFX has are placed on the top of the review in the section of licenses also with respective links to the regulatory sites, so you can check the detailed information of the company by the link, including adresses, Directors or other information .
However, in fact the regulatory guidelines are different in each region therefore trading conditions and offering based on the entity you will open account with will be different too, see bried differences below:
TriumphFX is considered  safe under its CySEC entity, since is authorized under Triumph Int. (Cyprus) Limited. (CySEC (Cyprus) number 293/16). Being a Europen regulated Broker there are numerous rules and safety measures applied, therefore TriumphFX is able to provide its services within the European Economic Area (EEA)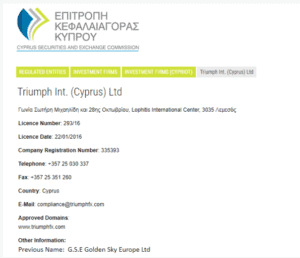 For Triumph FX international proposal it is run through two additional entities in Vanuatu and the British Virgin Islands (BVI). These entities, such as Triumph Int. Limited operating under the domain www.tfxi.com, provides a broader scope of services beyond the traditional European regulatory framework. Yet, these international branches operate with higher risks and are less regulated, even though company has European entity, so with International branches risks are higher also regulation is not so sharp. Read here Why Avoid Brokers from Vanuatu
However, the choice which entity to trade with is entirely on Trader himself, also based on the availability since some countries are restricted to open accounts with. So, If you choose to trade with TriumphFX our advice is to do deep research since TriumphFX together with good reviews, mainly from traders in Europe, there is evidence of numerous complaints and negative reviews from International Traders too mainly facing with TFXI trading. So to be on the safe side, it is good to open accounts under the European entity of TriumphFX and avoid its international branch.