IFSC Regulated Forex Brokers
The International Financial Services Commission (IFSC) is a regulatory establishment for the offshore industry in Belize. IFSC was established by the government of Belize to oversee and manage the country's financial sector. Belize is considered a hot spot for numerous investment firms, thanks to its alluring tax rate structure.
IFSC Forex Trading Platform
Forex trading is legal in Belize. The country's regulatory body, the International Financial Services Commission (IFSC), oversees and regulates forex brokers operating within its jurisdiction. As an offshore hub, IFSC doesn't guarantee the same level of transparency and protection as more stringent jurisdictions like UK, US, or AU. 
To offer forex trading services in Belize, brokers and platforms must obtain a license from the IFSC and adhere to its regulations and guidelines.
While forex trading is legal in Belize, it is imperative for traders to exercise due diligence in selecting a broker. This is because the level of protection offered by the IFSC is not equivalent to that provided by other regulatory bodies with more stringent standards.
Furthermore, it is not uncommon for instances of fraud to occur in the industry, highlighting the importance of thorough research prior to making a decision. (Read Why Avoid IFSC Brokers from Belize)
Read more about Forex Trading via Wiki.
| | |
| --- | --- |
| 🏦Regulator | The International Financial Services Commission (IFSC) |
| 🛡️Is it Safe to Trade with IFSC Broker? | No/ Can be Safe if Broker holds addtional Top-tier licenses |
| 📊Max. Leverage | 1:500 |
| 🔒Negative Balance Protection | No |
| 💰Compensation Scheme | No |
Belize IFSC Forex Regulation
Belize is an offshore financial center, meaning it provides financial services to non-residents and businesses on a scale disproportionate to the size and financing of its domestic economy. The primary objective of its regulatory body is to issue licenses to financial companies and to exercise control and supervision over all regulated entities to ensure their compliance with international financial services requirements.
Check IFSC's official website – www.ifsca.gov. , and we recommend following the regulator on Twitter – @IFSCA_Official.
Review the following essential points about IFSC:
The International Financial Services Commission (IFSC) is tasked with overseeing and regulating the activities of international financial services providers. The Commission is responsible for supervising and controlling the operations of licensed investment companies, as well as issuing licenses to financial services providers.
However, Belize is also known for being softer in regard to its laws and regulations, as compared to other top-tier regulatory organizations, enticing many unscrupulous brokers to establish their entities in the region. If the broker you are trading with is registered solely in Belize, chances are, it is a scam broker. 
Belize like many other tax havens is famous for its high leverage levels proposal, brokers under IFSC regulation offer max leverage up to 1:500.
Besides, the IFSC is constantly making changes to its rules, in order to have better control over financial companies and brokerages. According to new rules, all brokers pay a $25,000 annual licensing fee, also, a non-refundable payment of $1,000 upon applying for the license.
Overall, despite the efforts IFSC has made to improve its regulatory framework and comply with international standards, traders may still have concerns about the effectiveness of their oversight compared to regulators in other jurisdictions. 
Read more about Belize IFSC via Wikipedia.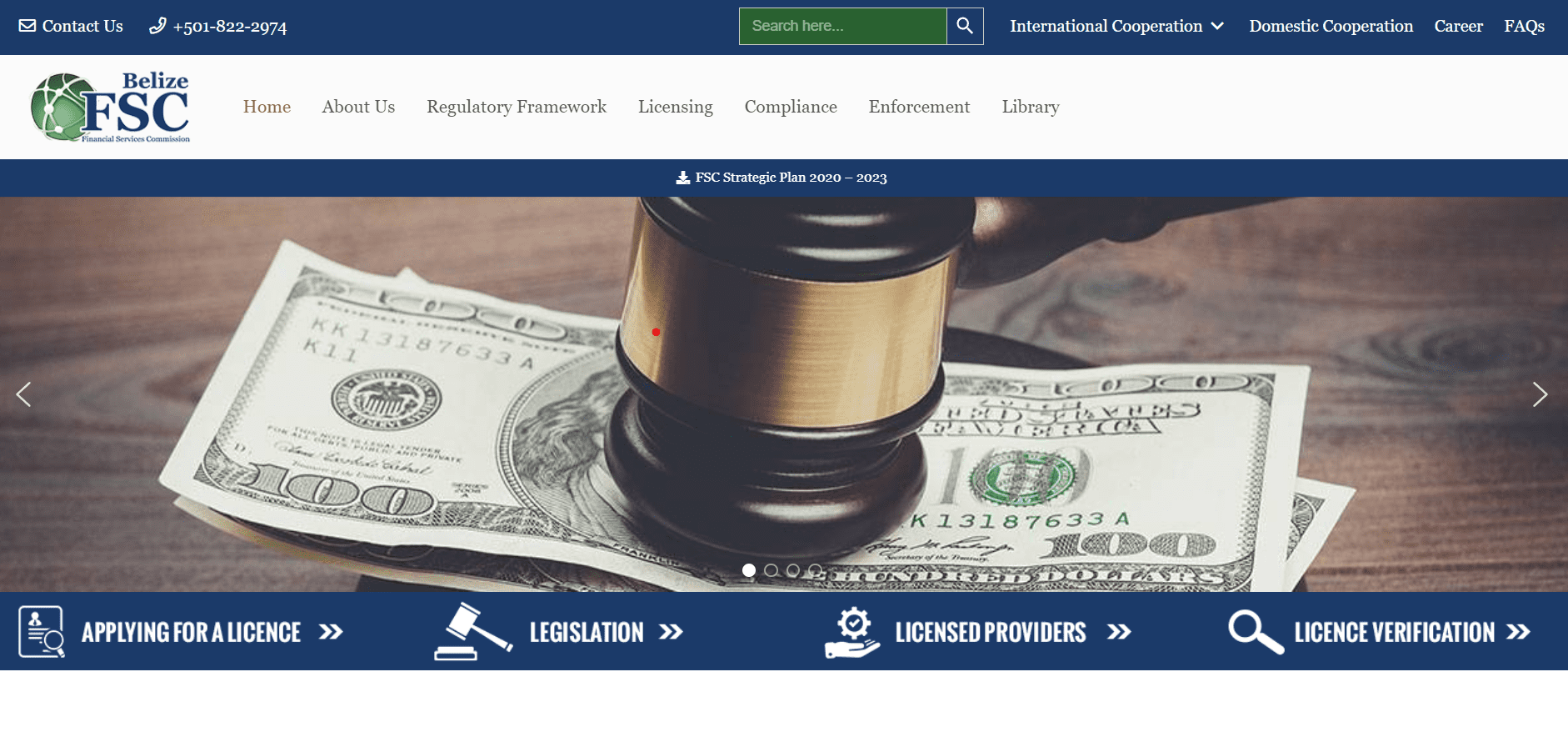 Top 5 Best Forex Brokers IFSC
Here is a selection of reputable brokers, offering favorable trading conditions, that are operating under the licenses granted by the International Financial Services Commission (IFSC) of Belize, while we highly recommend only choosing brokers with additional Top-tier licenses like those given below:
What is the IFSC Code in Forex?
Generally, the IFSC code is an 11-digit alpha-numeric code. It is necessary for transferring money from one account to another account. The Reserve Bank of India (RBI) uses the IFSC code for money transfers electronically. The code helps them verify the transfer of resources.
Is Belize IFSC regulation considered top-tier and good for Forex trading?
No, IFSC is not considered a Top-tier regulation, in fact, Belize IFSC is an offshore zone with lower regulatory requirements that attract many unscrupulous establishments that are not safe to trade with. We highly recommend trading only with Brokers that hold additional Top-tier licenses like UK, US, or AU alongside IFSC.
What are the powers of IFSC?
The International Financial Services Commission (IFSC) of Belize has several powers and responsibilities as the primary regulatory body overseeing the financial services sector in the country.
IFSC Forex Brokers List
These are the regulated brokers that hold IFSC licenses, also brokers of other jurisdictions offering their service to Belize traders. As a measure of protection, we once again recommend choosing brokers with additional reliable regulations:
Broker
Detail
HFM

Min. Deposit: 0 US$

Max. Leverage: 1:30 | 1:2000

Trading Platforms: MT4, MT5, HFM Trading App

Regulation: CySEC, FCA, DFSA, FSCA, FSA, CMA

HFM Review
BlackBull Markets

Min. Deposit: 0 US$

Max. Leverage: 1:500

Trading Platforms: MT4, MT5

Regulation: FMA, FSA

BlackBull Markets Review
FP Markets

Min. Deposit: 100 US$

Max. Leverage: 1:30

Trading Platforms: IRESS, MT4, MT5, cTrader

Regulation: ASIC, CySEC, St. Vincent and the Grenadines, FSP

FP Markets Review
BDSwiss

Min. Deposit: 100 US$

Max. Leverage: 1:500

Trading Platforms: MT4, MT5, BDSwiss Webtrader and App

Regulation: FSC, FSA

BDSwiss Review
HYCM

Min. Deposit: $20

Max. Leverage: 1:30 | 1:500

Trading Platforms: MT4, MT5, HYCM Trader

Regulation: FCA, CySEC, DFSA, CIMA

HYCM Review
Pepperstone

Min. Deposit: 200 US$

Max. Leverage: 1:30 to 1:400

Trading Platforms: MT4, MT5, cTrader, TradingView

Regulation: ASIC, FCA, DFSA, SCB, CMA, CySEC, BaFIN

Pepperstone Review
AvaTrade

Min. Deposit: $100

Max. Leverage: 1:30 | 1:400

Trading Platforms: MT4, MT5, WebTrader, AvatradeGO, AvaOptions, DupliTrade, ZuluTrade, AvaSocial, Capitalise.ai

Regulation: Bank of Ireland, ASIC, JFSA, FSCA, CySEC, BVI FSC, FRSA, ISA

AvaTrade Review
XM

Min. Deposit: US$5

Max. Leverage: 1:30 to 1:1000

Trading Platforms: MT4, MT5, XM WebTrader

Regulation: CySEC, ASIC, FSC, DFSA

XM Review
Exness

Min. Deposit: 10 US$

Max. Leverage: 1:30 | 1:1000

Trading Platforms: MT4, MT5

Regulation: FCA, CMA, CySEC, SFSA, CBCS, FSC BVI, FSC Muritius, FSCA

Exness Review