December 19, 2018 at 05:34 PM
Forex Trading: Why Avoid Brokers from Vanuatu

Introduction to VFSC
| | |
| --- | --- |
| 📚 Formed: | December 20, 1993 |
| 🏦 Jurisdiction: | The Republic of Vanuatu |
| 🏢 Headquarters: | Port Vila |
| 🖥 Website: | www.vfsc.vu |
| 🛡️ Is VFSC Broker Offshore or Top-tier Jurisdiction? | Offshore |
| 🔒 Is Offshore Broker safe to trade? | No |
| ⛔️ Type of License for Brokers to Avoid | Offshore License |
What is VFSC?
Vanuatu is a popular offshore zone for Forex Brokers and Financial firms run Vanuatu Financial Services Commission (VFSC) as a regulatory body to oversee investment and credit services, as well as other financial providers formally established in December 1993. See the snapshot of the VFSC mission below. Vanuatu itself gained its independent status in 1980 and is an archipelago of approximately 83 islands situated in the Southwestern Pacific Ocean. (Read more about VFSC on Wikipedia)
The Securities License in Vanuatu allows one to carry out international brokerage services with the ability to buy, sell and trade securities such as shares, bonds, options, etc, as well as manage a portfolio of investments for and on behalf of clients.
VFSC supported by a Deputy Commissioner with four departments divides their functional responsibilities, including Corporate Services, Insolvency, Legal Enforcement, and Compliance and Registration. Each of the departments performs with the purpose of meeting obligations and ensuring the current administrative and support assignment with an aim to establish a recognized internationally reputable and commercially attractive Vanuatu's Financial industry.
However, the main note is that Vanuatu is offshore jurisdiction like VFSC regulation is offshore too, therefore its standards are far beyond the top-tier regulations and can not be placed in the same line of safety, be sure to continue reading the next paragraphs
Why not trade with a VFSC-registered broker?
In fact, Vanuatu jurisdiction gained its popularity among the investors and business owners in the Forex industry looking to become a regulated broker, yet obtain its status through a simplified process and operate almost without supervision. Eventually, the small Pacific island of Vanuatu became very well-known and a paradise for financial industry owners, as Vanuatu proposed not only the opportunity to become an official financial service firm but to enjoy a variety of tax benefits and avoid legal challenges.
Therefore, many international companies looking for a solution and an offshore zone to enable their business ideas placed their interest in Vanuatu and incorporate their firms there. See some of our finds about Vanuatu Trading below and why it is considered not safe to deal with Vanuatu Brokers:
Increasingly popular regulation of Vanuatu shows its demand specifically among the Binary Options and other FX Brokers since the set of VFSC demands to establish a business is a very attractive opportunity, while more from the companies understand the necessity of regulation status. Brokers understand that regulations improve their reputation, trust increases dramatically among the traders, as well as other additional benefits are enjoyed, like international payment providing acceptance. (Read our article about Binary Options Scams)
Vanuatu Trading Registration
As a matter of fact, the main responsibility of the VFSC is a registration process only, which is merely implemented through low setup requirements. Consequently, an easy registration process with low costs, and very quick establishment invites various brokerages to be registered out there. Perhaps, Vanuatu is the easiest jurisdiction to open a brokerage, as the opening requires the company to submit a register online and prove initial establish capital which is $2,000 only to pay a fee, and within 2-3 months, the firm is crisp and registered.
VFSC regulator does not require strict proof of the company background, nor check on the implementation of the secure fund management or operation guidelines, does not require regular reporting, and further on never impose fines in case of fraud operation.
The authority is in charge of the official reporting of the company's legitimate issues only, which means the broker should submit a report once a year only, with no details of services provided. This opens doors to potential frauds and trading scams, alike compared to the industry-leading authorities' legislation (like UK FCA or Australian ASIC), the VFSC report requirement is far beyond the necessary level that may protect from the company's fraud operation and reveal the illegal acts. In fact, the report submits only the company returns and expenses and the general activity and has nothing to do with protective measures towards the clients.
Consequently, the cost of the brokerage becomes very low compared to industry-leading licensing or even to some other offshore financial centers, while the firm may set up operation even without the need to maintain a physical office. Obviously, it comes to the point that the investment and trading with VFSC brokers do not provide any guarantees of the company's sustainability, its serious measures, and what is extremely risky, does not implement any protection that protects from fall to scam or fraud.
Overall, the VFSC regulation and Vanuatu itself might be an attractive opportunity to open a business but it is not a likeable regulation for traders or investors. With the growing demand and popularity of trading and the Forex industry itself, before you entrust any broker your funds, strongly consider a sharp check on a broker and engage only with those that are regulated through recommended authorities alike FCA, FINMA, ASIC, or others. Remember also that not every company stated its regulation is indeed regulated one, as many brokerages mention its regulated nature but in fact, holding an offshore license only. We do not recommend trading with an offshore broker that holds no license, as such these offerings should be avoided by every means! (Read Why Trade with FCA UK Brokers)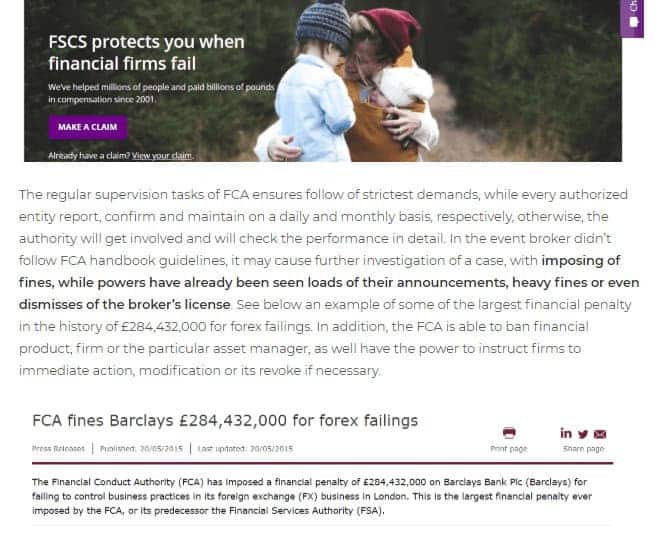 Complaints and scams
While the main duties of VFSC, as mentioned by the authority, concerning the provision of effective services for the supervision of the financial business to protect the public against financial loss out of dishonesty. Yet, the authority does not assist in case the trader was victimized or falls under scam by a Forex Broker incorporated in Vanuatu. In the scenario of funds lost, the trader remains alone and unprotected to recover funds from the VFSC Broker, while the chances of refunds are minimized.
However, In case you are not satisfied with the investment transaction, you can submit a complaint through a VFSC contact form https://www.vfsc.vu/fees-help-support/contact-us/
Even though, the VFSC authority tries to promote the development of the Vanuatu financial service industry by submitting from time to time warnings against those companies that mention their registration by VFSC, mislead or false information about service providing. However, this is the maximum the authority can do to protect clients.
Yet, most often the regulation is not able to assist and will refer to the point that the trader using the services at his own risk.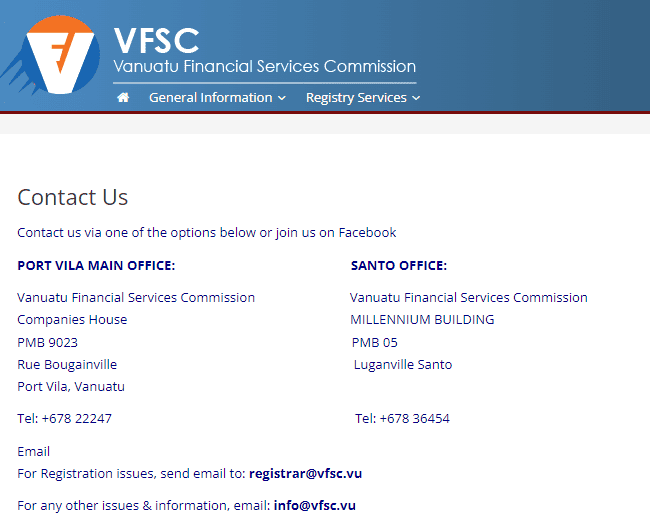 List of Vanuatu Forex Brokers
Currently, we have reviewed hundreds of Forex Brokers in Vanuatu, and in fact, none of them is included in the list of trusted or regulated brokers which we recommend trading with due to a lack of safety measures. (For example, see our Review of Doo Prime)
The protection of funds always stands first while trading, therefore, check on the broker carefully, and revise the broker's regulation status, while is best to choose Broker with top-tier licenses and avoid solely offshore offerings, check on updates and other information, along with the reputation by reading reviews and checking on the legit documentation. And of course, choose only reputable companies that were established in known financial centers through implementing the strictest regulation of forex business and financial service itself.
List of Vanuatu licensed brokers along with additional information about Vanuatu Registered companies available to check through an official online source. But as we advise solely Vanuatu registration does not mean Broker is safe.
Verify company reputation through the list of Brokers to avoid, or contact us in case you can't find a particular one and better not respond or keep a distance from any cooperation with Vanuatu brokers, offshore brokers, or non-regulated entities at all costs.
Conclusion on VFSC
Obviously, Forex Brokerage service, as becoming popular, must be issued with a respected regulation of Forex Broker License. It is not a matter of protection only, but international banks or payment providers do not accept applications from unlicensed companies. However, the licenses can be granted either by an offshore jurisdiction, which has no ability to implement the strictest qualification of the financial firms, or an onshore regulatory body through imposed sharp and high requirements or legislation towards brokerages. As such, offshore brokerages including Vanuatu Brokers may fall on various possibilities of the company operation, while in fact many of them are pure frauds.
Such investment service firms, including Vanuatu Broker and those registered by VFSC bypass legal constraints and do not comply with costly compliance of the jurisdictions that solicitude at first about customer-oriented offerings through protecting tools.
So when it comes to the point of choosing the best firm to trade with, the trader or investor should protect himself and better to consider brokerages from reputable jurisdictions that maintain a sustainable level of protection. The financial investment and trading providing itself require the strictest overseeing by the industry authorities, otherwise, the risks may incur traders to lose capital or fall under scams. To assist and discover more about the differences or applicable management of the regulated brokers check out the listing by the link.