Forex Brokers in South Africa
Recently, South Africa showing a significant increase in trading activity that happened for several reasons besides that South Africa as a very developed country's economic system constantly shows its growth and is among the most progressive in the region.
Who are South Africa Brokers?
While the financial markets are still in the development stage in South Africa, the sector is very liberated and shows great potential that increases its demand through more and more international Brokers that engage to South Africa trading operations.
Many of Forex Brokers from South Africa are eventually some of the world-known Brokers that were attracted by the relatively easy limitations and the destination's promising opportunities.
However, there are still many unregulated forex brokers in South Africa, that target the local population mainly based on a lack of good knowledge. Thus you should be extremely careful while choosing the South African broker to trade with and follow strict criteria based on the legit status of the Brokers as first.
Regulations in South Africa
The good news and obvious benefits of South Africa is that Forex is regulated with greater protection against malicious companies due to its laws and regulations applied. Particularly through an established national regulator FSCA that also brings a legal and safe way to operate brokerage. Moreover, we would mention that regulation took a quite serious and well-organized path in South Africa, following the successor to the previously known FSB.
The abovementioned tasks are now performed by the FSCA – Financial Sector Conduct Authority, Website: www.fsca.co.za Where FSCA is in charge of the licensing of financial companies and trading Brokers, and monitor developments to comply with the relevant legislation and customers' protection rights.
FSCA was formed in 2018 and for now is among leading world authorities with sharp international standards, overseeing and control over the proposals. Read more about the FSCA establishment through Wikipedia.
In simple words, before its launch and legit status in South Africa, every brokerage firm should obtain an FSCA license that guarantees a balanced framework and safe trading environment governed by the FSCA.
You can check broker details through an official website and see company records to verify conditions, also we would also recommend following FSCA official Twitter to stay updated with recent news and warnings @FSCA_ZA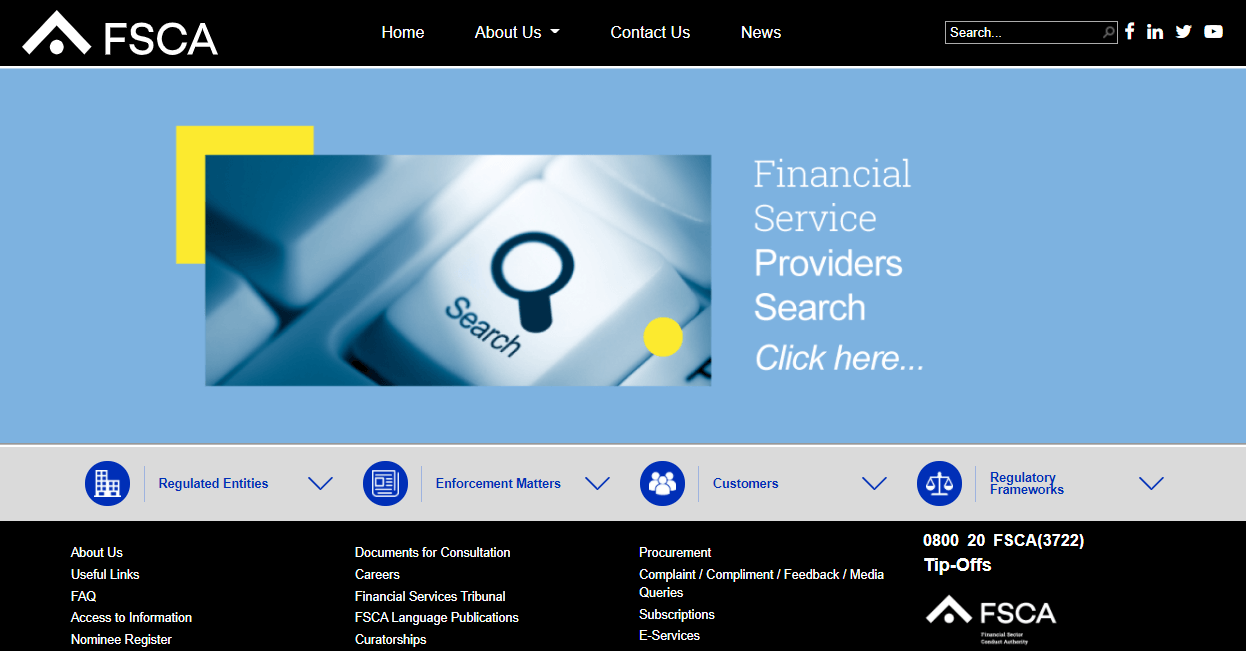 Best Forex Brokers South Africa
To find and select Top Forex Brokers you should define your own need, along with the strategy, level of experience and conditions that may be offered by the broker.
The important note about regulation is already covered here are we create a list solely based in South Africa Regulated Forex Brokers, where below you can see listing created according to the specified criteria and its High Scores.
BDSwiss– Best Overall Broker in South Africa 2022
BlackBull Markets – Lowest Spread Broker in South Africa 2022
HotForex – Best MT4 Broker in South Africa 2022
FP Markets – Best Broker for Beginners in South Africa 2022
Pepperstone – Best for Scalping and EA Trading Broker 2022
South Africa Forex Brokers List
These are the regulated brokers that accept clients from South Africa:
Broker
Detail
BDSwiss

Min. Deposit: 100 US$

Max. Leverage: 1:30 | 1:500

Trading Platforms: MT4, MT5, BDSwiss Webtrader and Mobile App

Regulation: CySEC, FSC, FSA

BDSwiss Review
BlackBull Markets

Min. Deposit: 200 US$

Max. Leverage: 1:500

Trading Platforms: MT4, MT5

Regulation: FMA, FSA

BlackBull Markets Review
FP Markets

Min. Deposit: 100 US$

Max. Leverage: 1:30

Trading Platforms: IRESS, MT4, MT5

Regulation: ASIC, CySEC

FP Markets Review
Pepperstone

Min. Deposit: 200 US$

Max. Leverage: 1:30 to 1:400

Trading Platforms: MT4, MT5, cTrader, TradingView

Regulation: ASIC, FCA, DFSA, SCB, CMA, CySEC, BaFIN

Pepperstone Review
HFM

Min. Deposit: 5 US$

Max. Leverage: 1:30 | 1:1000

Trading Platforms: MT4, MT5

Regulation: CySEC, FCA, DFSA, FSCA, FSA

HFM Review
BlackBull Markets

Min. Deposit: 200 US$

Max. Leverage: 1:500

Trading Platforms: MT4, MT5

Regulation: FMA, FSA

BlackBull Markets Review
Axiory

Min. Deposit: 10 US$

Max. Leverage: 1:777

Trading Platforms: MT4, MT5, cTrader

Regulation: FSC, FSC

Axiory Review
FBS

Min. Deposit: 1 USD

Max. Leverage: 1:30

Trading Platforms: MT4, MT5, FBS trader, CopyTrade

Regulation: CySEC, FSC, FSCA, ASIC

FBS Review
Eightcap

Min. Deposit: 100 US$

Max. Leverage: 1:30

Trading Platforms: MT4, MT5

Regulation: ASIC, SCB

Eightcap Review
FXCC

Min. Deposit: No minimum deposit

Max. Leverage: 1:30 | 1:500

Trading Platforms: MT4

Regulation: CySEC, VFSC

FXCC Review