Top 3 Forex Brokers
Beware TD365 is a Non-Regulated Broker. It is NOT SAFE to trade
Our Review
TD365 User Reviews
TD365 News
Is TD365

Scam or Legit Broker?
No, we can not consider TD365 as a fully secure broker due to the absence of a trustworthy license from a reputable regulatory authority. The broker does not hold a top-tier license from one of the leading financial authorities, such as FCA, ASIC, or CySEC. It is only regulated by the Securities Commission of the Bahamas, SIA-F216.
Research showed that TD365 cooperates with the broker Trade Nation under the Bahamas entity. Trade Nation is a reputable broker, holding multiple top-tier licenses and enjoying a strong reputation within the market. Therefore, if you are considering choosing a trustworthy broker, we recommend considering Trade Nation as your preferred choice, as it provides access to advantageous offerings and favorable trading conditions.
Regulatory oversight is a crucial factor in determining the trustworthiness of a broker. A reputable regulatory authority helps ensure that the broker complies with industry standards and follows proper financial practices, which can help protect your investments. Read about Brokers for Investment here. 
About TD365
| | |
| --- | --- |
| 🏢 Registered in | The Bahamas |
| 🗺️ Type of License | Offshore |
| 🛡️ Is TD365 safe to trade? | No |
| 🗺️ Recommended Licenses | FCA in the UK 🇬🇧 and ASIC in Australia 🇦🇺 |
| 🖥 Alternative Broker | FP Markets - licensed by ASIC in Australia |
What is TD365?
On its website, TD365 mentions a range of opportunities that come with trading with the broker. The broker mentions that it enables its clients to trade the most popular markets with low spreads on its CloudTrade platform. In addition, TD365 offers traders negative balance protection, high leverage of 200:1, a single currency Trading Account, and other benefits.
Nevertheless, after conducting thorough research, we have uncovered important information that should be taken into account before making an informed decision about registering with the broker.
In fact, TD365 is licensed by the Securities Commission of the Bahamas, which in itself is an offshore zone. However, the broker on some level cooperates with a regulated broker Trade Nation under the Baham entity, a factor that enhances the broker's reputation positively.
While some of TD365 offerings appear favorable, it's worth noting that the broker's website lacks sufficient educational resources. Traders may need to take the initiative to explore alternative information sources to acquire the necessary skills and knowledge. The sole form of assistance the broker provides is the availability of a demo account and a video guide to the platform. 
When researching a broker, obtaining genuine client feedback is a crucial step. In our investigation of the broker, we discovered that the reviews are varied, but it's noteworthy that positive reviews seem to be more prevalent.
At last, considering the information we've gathered, it's important for traders to understand that opting for an unregulated or offshore broker can pose risks to their investments. In the market, there are numerous brokers that are tightly regulated, adhering to strict regulatory standards and inspiring a high degree of trust.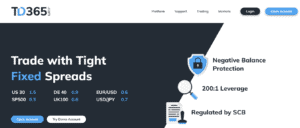 Overall TD365 Ranking
Drawing on a decade of experience in the Forex trading industry, our research has brought to light significant concerns regarding TD365 reliability and its commitment to regulatory standards. As a result, we cannot provide a positive rating for TD365.
TD365 Overall Ranking is 3 out of 10 based on our testing and compared to 500 other brokers. See Our Ranking below compared to other popular and industry-leading Brokers.
| Ranking | TD365 | FBS | FXGT |
| --- | --- | --- | --- |
| Our Ranking | ⭐ | ⭐⭐⭐⭐⭐ | ⭐⭐⭐⭐⭐ |
| Is Broker safe? | No | Yes | Yes |
| Advantages | None | Trading Environment | Education |
TD365 Alternative Brokers
Due to the safety concerns associated with TD365, we strongly advise traders to consider exploring alternative options that offer stringent regulations and improved trading conditions. Here is a list of reputable brokers that provide reliable choices and a secure trading environment for consideration:
BlackBull Markets – Good Market Instruments 
HYCM– Low Spreads and Competitive Trading Conditions
FBS– The best selection of Educational Resources
Deposits and Withdrawals
Transferring funds to the trading account is a quick and straightforward process. To get started, traders need to log in to their accounts, navigate to the Payments menu, and click on "Deposit Funds." There is the option to deposit funds via bank transfer, credit card, or debit card.
TD365 does not impose a minimum deposit requirement. Traders can decide on the trading amount that suits their individual financial circumstances.
Yet, we always advise being careful with offshore brokers, as it is a well-known fact that withdrawal processes might become serious issues and even lead to substantial financial loss.
Trading Platforms
According to the broker's website, the CloudTrade Platform, offers fixed bid-ask prices regardless of market volatility, along with some of the industry's lowest spreads. The platform enables instant execution and traders have the flexibility to specify the stake size in their local currency or the chosen base currency.
TD365 also provides the industry-renowned MT4 platform, offering tight variable spreads for traders on the MetaTrader 4 trading platform.
TD365 Review Conclusion
Based on the information we've gathered about TD365, there are notable concerns about the broker's reliability. While the broker offers quite attractive features, its registration in an offshore jurisdiction, posses inherent risk and raises doubts, in that word we surely belive it is much better to choose Broker with good regulations rather than signing into risky activity Broker, as trading has enough risks itself.
We highly recommend seeking out a broker that holds licenses from respected authorities such as FCA, ASIC, or CySEC. There are many regulated brokers with great offerings and conditions, also aligned with top-tier regulations, which are considered a safe choice to trade, including FP Markets, HFM, or FXGT.
Overall ranking and experience for TD365 is Negative