BaFin Regulated Forex Brokers
Originally known as Bundesanstalt für Finanzdienstleistungsaufsicht, BaFin is a regulatory agency based in Germany. The German independent agency regulates the banking sector, financial companies, and insurance firms throughout the country. BaFin was formed back in 2002 and is a highly independent organization.
BaFin Forex Trading Platform
In Germany, Forex trading is considered legal and is subject to strict regulations and oversight by the independent regulatory authority BaFin. This means that Forex activities, as well as related operations, are closely monitored and supervised to ensure compliance with legal and ethical standards.
| | |
| --- | --- |
| 🏦Regulator | Bundesanstalt für Finanzdienstleistungsaufsicht (BaFin) |
| 📊Max. Leverage | 30:1 |
| 🔒Negative Balance Protection | Yes |
| 💰Compensation Scheme | No |
Germany BaFin Forex Regulation
BaFin's primary objective is to protect consumers, maintain market stability, and ensure the integrity of the financial system in Germany. To achieve these objectives, BaFin is responsible for regulating and overseeing a wide range of financial institutions, including banks, insurance companies, investment funds, and securities trading firms.
Check BaFin's official website – www.bafin.de also we recommend following the regulator on Twitter – @BaFin Official.
Here are some important notes about BaFin Regulation and Trading with BaFin Brokers:
BaFin is considered one of the few strictest regulatory bodies worldwide. Perhaps, due to the tight regulations, Germany has an excellent reputation within the economic and international community, for its advanced businesses and leading position in world progress.
Forex brokers with BaFin regulation are commonly top-level companies with sufficient working capital, excellent expertise, a good protection level, and helpful customer support.The capital of the forex brokers under the regulation should at least be €750,000
BaFin is a member of the European Securities and Markets Authority (ESMA) and works closely with other regulatory bodies in the EU so follows guidelines in accordance with the MiFID derivative. to ensure consistency and coordination in financial regulation across the European Union EU
Therefore, choosing BaFIN regulated Broker it can be either Broker established in Germany which initially got BaFin license, or any other EU Broker which is registered with BaFin too due to cross-border ESMA derivative. This meaning Traders from Germany or EU can trade with them
One of the authority's priorities is to ensure full integrity and compliance of the registered company up to the required level. BaFin also makes sure that financial service institutions or companies follow high standards, providing complete transparency and high security to the clients, which also includes ability to contact BaFin in case any misleading operation going on and access a compensation scheme of up to 20,000 EUR in case Broker bankrupt. 
So all in all, overall BaFIn Brokers are considered highly reliable along with positive user reviews, good safety and conditions provided.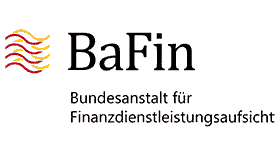 Top 5 Best BaFin Forex Brokers
This is the list of some Brokers with a good reputation and trading conditions operating under BaFIN licenses or accept traders from Germany, which we select as the best in its category:
What is BaFin Germany for Forex traders?
BaFin is a Regulatory Body for Forex Trading in Germany, thus for Forex Traders it is a number of services BaFIn offers to protect investors. Generally, BaFin Forex brokers provide great security, essential for traders, especially with larger trading capital. However, as the country is a part of the EU MiFID derivative the fall under standard of principles in all European Forex countries.
Is it easy to find BaFin-regulated Forex brokers?
To find BaFin-regulated Forex brokers, you can search for "BaFin-regulated Forex brokers" or can visit the BaFin website and look for a list of regulated institutions, along checking out list of BaFIn regulated Brokers below.
What Makes BaFin Regulated Forex Brokers Different?
The primary difference is that they are subject to strict regulatory standards set by BaFin, which is a reputable financial regulatory authority in Germany. BaFin-regulated Forex brokers are required to comply with these regulatory standards to ensure the safety and security of their clients' investments.
List of Forex Brokers Regulated by BaFin
These are the Regulated brokers that operate under BaFin license either being initial BaFIN Broker or EU Broker that has BaFin registration, so can accept traders rom all EU:
Broker
Detail
HFM

Min. Deposit: 0 US$

Max. Leverage: 1:30 | 1:2000

Trading Platforms: MT4, MT5, HFM Trading App

Regulation: CySEC, FCA, DFSA, FSCA, FSA, CMA

HFM Review
BlackBull Markets

Min. Deposit: 0 US$

Max. Leverage: 1:500

Trading Platforms: MT4, MT5

Regulation: FMA, FSA

BlackBull Markets Review
GO Markets

Min. Deposit: 0 US$

Max. Leverage: 1:30, 1:500

Trading Platforms: MT4, MT5, cTrader, WebTrader

Regulation: ASIC, CySEC, FSC, FSA

GO Markets Review
HYCM

Min. Deposit: $20

Max. Leverage: 1:30 | 1:500

Trading Platforms: MT4, MT5, HYCM Trader

Regulation: FCA, CySEC, DFSA, CIMA

HYCM Review
Pepperstone

Min. Deposit: 200 US$

Max. Leverage: 1:30 to 1:400

Trading Platforms: MT4, MT5, cTrader, TradingView

Regulation: ASIC, FCA, DFSA, SCB, CMA, CySEC, BaFIN

Pepperstone Review
FXCC

Min. Deposit: No minimum deposit

Max. Leverage: 1:30 | 1:500

Trading Platforms: MT4

Regulation: CySEC, SVG FSA

FXCC Review
Octa

Min. Deposit: $25

Max. Leverage: 1:30 | 1:500

Trading Platforms: MT4, MT5, Octatrader

Regulation: CySEC, SVGFSA, FSCA

Octa Review