Twitter Partners with eToro to Bring Stock and Cryptocurrency Trading to Users
April 14, 2023 at 12:17 PM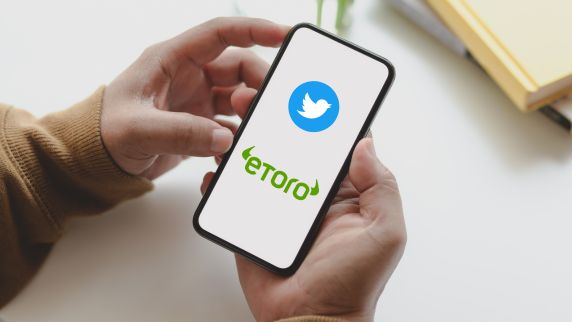 Twitter is set to introduce a new feature in partnership with social trading company eToro that will allow users to access stocks, cryptocurrencies, and other financial assets directly through the platform. The integration will expand Twitter's existing cashtags feature and enable users to buy and sell assets via eToro.
Currently, Twitter users can view real-time trading data from TradingView on index funds like the S&P 500 and individual stocks such as Tesla using the platform's cashtags feature. By entering a ticker symbol preceded by a dollar sign, users can access price information from TradingView via an API.
The collaboration with eToro will expand Twitter's cashtags to cover a wider range of financial instruments and asset classes. Users will also be able to click a "view on eToro" button that redirects them to eToro's site, where they can then trade assets on the platform. eToro uses TradingView as its market data partner.
Yoni Assia, eToro's CEO, highlighted the growth of his company and its users' increasing interactions on Twitter. He believes the partnership will help eToro tap into new audiences and strengthen the connection between the Twitter and eToro brands.
This partnership marks a significant business deal for Twitter since Elon Musk took over as CEO after acquiring the platform for $44 billion last year. Under Musk's leadership, Twitter has reduced its headcount from 8,000 to 1,500 to cut costs and achieve profitability. However, this move has also caused concerns among advertisers about potential lapses in content moderation standards.
Despite Musk's recent announcement that "almost all" advertisers had returned to the platform, companies like Stellantis and Volkswagen have yet to resume advertising on Twitter. Assia confirmed that the same Twitter team responsible for the stock market data tool collaborated on previous partnerships with eToro.
Founded in 2007, eToro is an online brokerage that allows users to trade stocks, cryptocurrencies, and index funds. The platform has over 32 million registered users across Europe, Asia, and the United States and is known for its feature that lets users mimic the trading strategies of other users.
Read our comprehensive review on eToro or visit eToro's website etoro.com