By Jay, from Canada,
March 31, 2022 at 04:38 PM
Can you please email about the SWISS-UNION.NET OR SWISSUNION.COM aRE THEY lICENSED AND THERE PHONE AND CONTACT DETAILS. Thank you
Swiss Union broker is not licensed and moreover it was blacklisted by one of the most reputable authorities, the Financial Conduct Authority.
In its relatively recent announcement, the FCA states that Swiss Union is not authorised by the FCA and is targeting people in the UK.
The pages and official sources of the international regulators' list alert shared with the authority directly or by other countries' supervisory bodies or transmitted centrally. Those tools and general purpose of the regulatory bodies operate in order to enable stability of the market offerings, protect clients from potential and numerous frauds, enable reliability rules to financial service entities and more.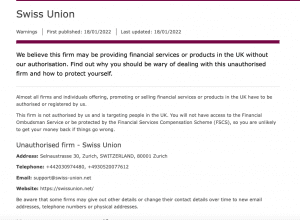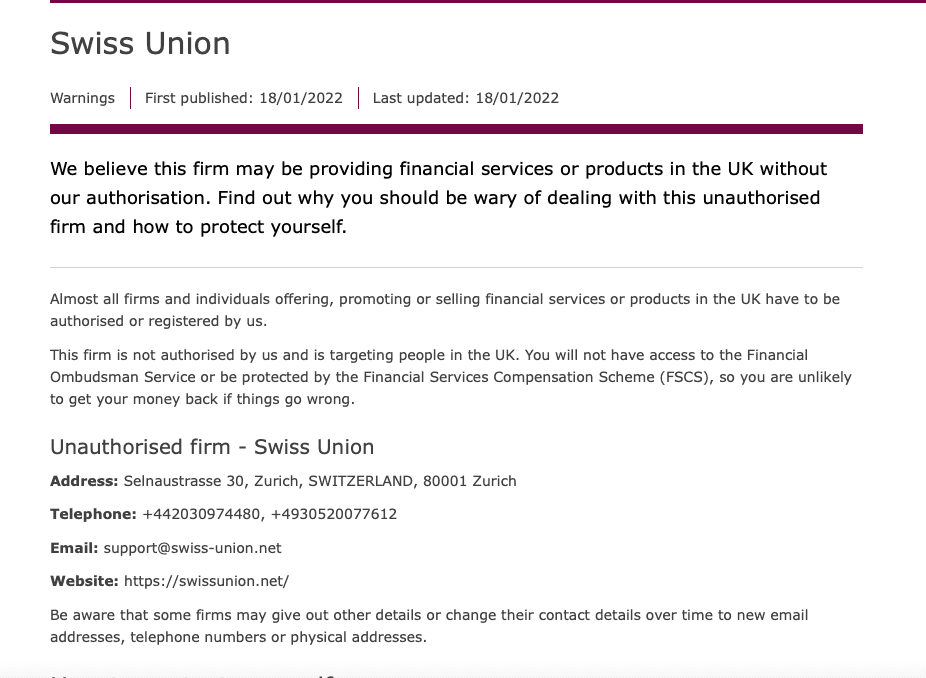 We did not find any other proofs of this broker's authorisation in other countries by other regulatory financial authorities. Therefore, we can conclude this broker should be avoided, as the financial investment service they deliver is not trustable. The reason is simple, the broker may promise the most ever competitive trading conditions or the trading environment, yet the trader has no any guarantee from the official entities that oversee the Forex industry.