By Jan Boeckx, from Belgium,
July 19, 2019 at 06:23 PM
Hello, I have been cold-called by many Africans calling from Nova Scotia in Canada, saying they offer me a refund for funds lost by me in the past to forex and BO companies. They want me to deposit at least $ 1000 with crypto.aaatrade.com. AAA trade is regulated by Cysec, but I am still terrified. Over here reviews say there is involvement with money laundering: https://www.forexbrokerz.com/brokers/aaa-trade-review And cold-calling Africans do not inspire confidence. What should I do?
AAATrade is a CySEC-licensed broker and looks reliable. However, we didn't find any mentions of the crypto.aaatrade.com on AAATrade's website. The broker is not licensed in Canada, therefor they don't have any branches there.
Also, the license information provided by the Cyprus regulator states only one approved domain (www.aaatrade.com).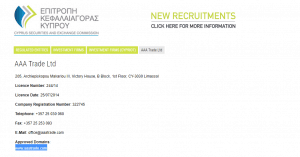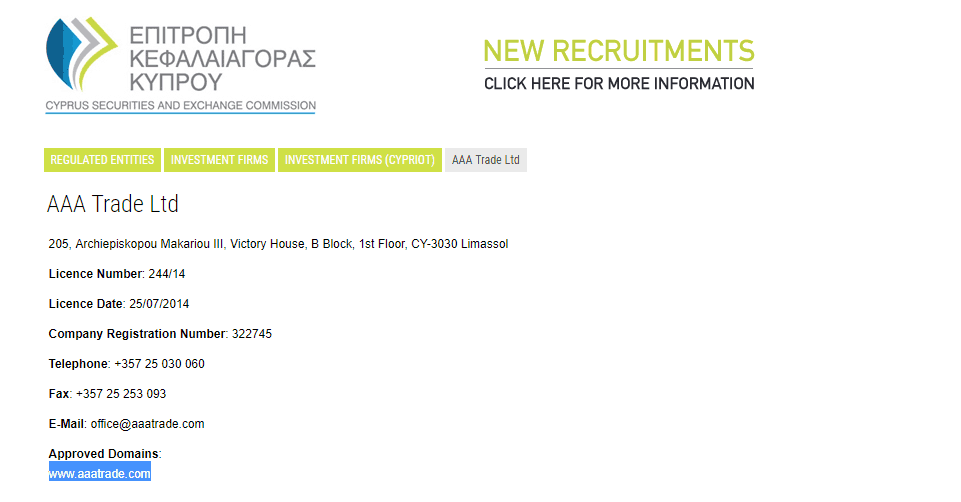 So there's a chance that the website with the domain crypto.aaatrade.com and those representing it are simply frauds. 
We recommend you to check it with the AAATrade (aaatrade.com) representatives, before investing to another website with the similar name. You can also check our full AAATarde review here.