Top Brokers with Lightning-Fast Execution for Gold Trading
August 24, 2023 at 08:11 AM
In the world of gold trading, speed can be the ultimate game-changer, and choosing a broker with swift order execution can significantly impact traders' success. After an exhaustive evaluation of the leading brokers in the industry, BlackBull Markets has emerged as the standout performer, offering unparalleled execution speed for gold trades, making it the preferred choice for traders seeking efficiency in this precious metal market.
The Importance of Order Execution in Gold Trading
In the realm of the gold market, swift price fluctuations are the norm, and executing trades at the right moment can determine the line between profitable trades and missed chances. Whether traders are employing scalping strategies or depending on automated systems, quick order execution guarantees the ability to enter and exit gold positions swiftly. This approach diminishes the possibility of slippage and optimizes the potential for profits.
Findings from Gold Trading Execution Speed Testing
Through a comprehensive examination of brokers specializing in gold trading, we assessed the speed of executing market orders. Our objective was to pinpoint the broker consistently offering the swiftest execution, thereby granting traders a notable advantage in the gold market. Following meticulous testing, BlackBull Markets emerged as the unequivocal leader, showcasing a remarkable average execution speed for gold market orders that surpassed all competitors. Its steadfast dedication to rapid execution positions it as a leading choice for traders in search of a dependable ally in the realm of gold trading.
Here's a glimpse of the average execution speeds for gold market orders among the brokers tested:
BlackBull Markets: 20.587 milliseconds
XM: 35.488 milliseconds
FXPro: 47.653 milliseconds
Admiral Markets: 85.559 milliseconds
Easy Markets: 104.461 milliseconds
Fusion Markets: 92.166 milliseconds
FP markets: 87.665 milliseconds
Pepperstone: 30.698 milliseconds
Eightcap: 276.66 milliseconds
IC Markets: 356.69 milliseconds
Testing Methodology for Gold Trading Execution Speed
To ensure the accuracy and relevance of our findings, our testing focused on the popular gold trading pair XAU/USD. We executed a total of ten buy and ten sell orders for 1 lot each of XAU/USD at regular intervals throughout a typical trading day.
By simulating real-time trading conditions, our methodology captured the brokers' execution speeds accurately. Utilizing standardized order sizes and a common gold trading pair created a level playing field for all brokers tested.
Throughout the testing period, we recorded the time taken for each gold order to be executed, measuring the order execution time from submission to confirmation. This data allowed us to calculate the average execution speed for each broker.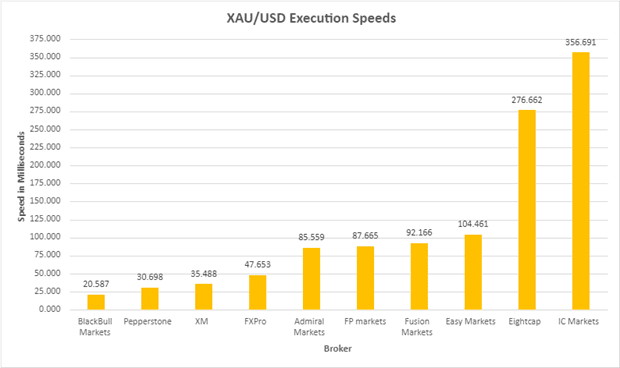 Conclusion
In the competitive world of gold trading, BlackBull Markets shines as a top choice for traders seeking lightning-fast execution, followed by Pepperstone and XM. With its industry-leading execution speeds, traders can seize time-sensitive opportunities and optimize their gold trading strategies with minimal slippage.