Orbex Awarded Best FX Educational Broker in MENA
November 14, 2022 at 12:49 PM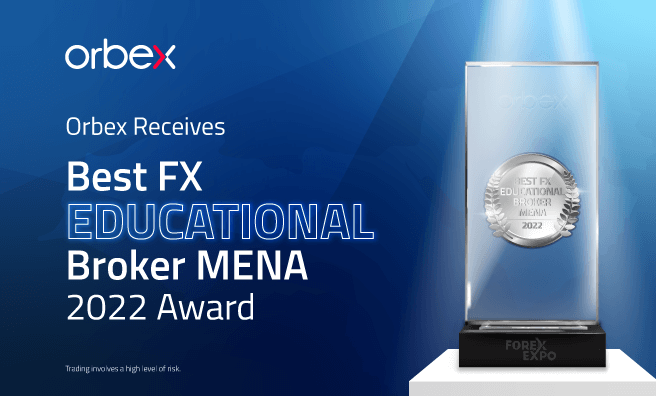 Orbex, a global multi-regulated financial services broker, has announced that it received the "Best FX Educational Broker in MENA 2022" award at this year's Forex Expo in Dubai. This is due to Orbex's long-standing dedication to providing its trader with the best market research, analysis, and trading education available in English and Arabic.
The Forex Expo Awards honor the achievements of top companies that represent quality and innovation in the global fintech and financial services sectors at their best. The Forex Expo in Dubai brings together thousands of traders and top figures from the fintech and investment services sector, including banks, institutional investors, hedge funds, brokers, fintech solution providers, and media outlets, and is concluded with an awards ceremony. As one of the Forex Expo's Titanium sponsors, Orbex had the chance to demonstrate its trading services, partner prospects, and multi-awarded Research & Analysis team.
Since it was created in 2011, Orbex has earned a reputation for making significant investments in educating its customers and the larger trading community about the financial markets, guiding people on how to trade online with CFDs through daily market news analyses, live webinars, regional seminars, and special reports. Given its ongoing investment in top-notch Arabic Research & Analysis, Orbex, which is dedicated to "helping traders responsibly," has a particularly strong presence in the greater MENA region and most Arabic-speaking nations.
Orbex Head of Training and Market Strategy Mohammed Al-Mariri who had the opportunity to accept the "Best FX Educational Broker in MENA 2022" in person, commented, stating that the award validates their continuous efforts to provide the best possible trading education and supports traders to gain a better understanding of the global financial markets and how to conduct trades. He further expressed his enthusiasm that their Research team's dedication to high-quality research has once again been recognized by Forex Expo Awards and that they remain committed to providing traders with actionable market commentary, real-time expert analysis, and exclusive trading insights in multiple languages.
Moreover, earlier this year, Orbex's Research team was honored with the 'Best Forex Research and Education Provider 2022' by the acclaimed fintech magazine and awarding body World Finance.
About Orbex
Orbex is a leading global investment services firm offering award-winning forex and CFD trading services at some of the most competitive conditions. Since its inception in 2011, Orbex has committed to providing access to first-in-class trading and investing solutions that are backed by leading education, expert research tools, and the ongoing support needed to assist clients in navigating the global financial markets.