Leading Forex and CFDs Broker FP Markets Expands its Emerging Markets Forex Offering Adding Mexican Peso (MXN), Brazilian Real (BRL) and South African Rand (ZAR)
May 25, 2023 at 05:01 AM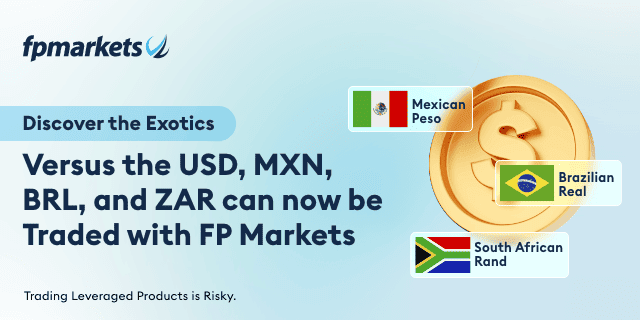 As the foreign exchange market continues to grow, there has been a surge in client demand for greater choice and flexibility. In light of this, FP Markets has taken steps to enhance its range of exotic currency pairs. Traders and investors can now engage in trading activities involving the Mexican Peso (MXN), Brazilian Real (BRL), and South African Rand (ZAR) against the US Dollar. This expansion has significantly increased the number of currency pairs available for trading at FP Markets, surpassing 70 in total. By bolstering its comprehensive selection of CFD products, which already includes Commodities, Shares, Indices, Digital Currencies, Bonds, and ETFs, FP Markets aims to cater to the diverse needs of its clientele.
FP Markets now offers the newly added currencies through its MT4 and MT5 Trading Platforms. Traders can access a comprehensive list of these currencies by visiting the dedicated page provided by FP Markets.
FP Markets' CEO, Craig Allison, expressed his thoughts on the launch of the additional currencies, stating that it is a significant step in the company's efforts to enhance its Forex offering and provide traders with more diverse options in the FX market. He emphasized that in addition to the already extensive selection of currency pairs, clients can now access the Mexican Peso (MXN), Brazilian Real (BRL), and South African Rand (ZAR) as base currencies against the US Dollar. This expansion allows traders to diversify their portfolios and take advantage of the growth potential offered by emerging markets.
FP Markets, founded in 2005, is a reputable brand that operates under multiple regulations. It offers a wide range of trading options to clients, with over 10,000 tradable instruments spanning various key asset classes. FP Markets ensures competitive pricing by aggregating rates from several esteemed liquidity providers. Moreover, the company prides itself on consistently offering tight spreads, ensuring rapid execution of trades, and providing unmatched 24/7 multilingual customer support. To accommodate diverse trading strategies and styles, FP Markets offers a variety of Account types.
About FP Markets
FP Markets is a Multi-Regulated Forex and CFDs Broker with over 18 years of industry experience.
The company offers highly competitive interbank Forex spreads starting from 0.0 pips.
Traders can choose from the leading powerful online trading platforms, including FP Markets' Mobile App, MetaTrader 4, MetaTrader 5, WebTrader, cTrader, and Iress.
The company's outstanding 24/7 multilingual customer service has been recognised by Investment Trends and awarded 'The Highest Overall Client Satisfaction Award' over five consecutive years.
FP Markets has been awarded the 'Best Global Forex Value Broker' for four consecutive years (2019, 2020, 2021, 2022) at the Global Forex Awards.
FP Markets has been awarded the 'Best Forex Broker – Europe' and the 'Best Forex Partners Programme – Asia' at the Global Forex Awards 2022.
FP Markets has been awarded 'Best Trade Execution' at the Ultimate Fintech Awards 2022.
FP Markets crowned 'Best CFD Broker in Africa' at FAME Awards 2023
To explore FP Markets' extensive range of products and services in detail, visit the official website at www.fpmarkets.com.