Italy's CONSOB warns against forex broker Capital Swiss FX
December 19, 2018 at 04:32 PM

Italy's financial markets and services provider regulator CONSOB (Commissione Nazionale per le Società e la Borsa) has updated its list of forex brokers who are not licensed to operate in Italy with one new addition – Capital Swiss FX. This broker has been offering investment services and activities to the Italian public without being authorized in the country.
Commissione Nazionale per le Società e la Borsa (CONSOB; Italian Companies and Exchange Commission) is the government authority of Italy responsible for regulating the Italian securities market. This includes the regulation of the Italian stock exchange, the Borsa Italiana.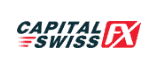 Capital Swiss FX is a broker that offers assets choice from four different classes including Currency Pairs, Commodities, Indices or Treasuries. There are two companies behind the brand's name, Swiss Cap Ltd, registered offshore, on St. Vincent and the Grenadines, and Swiss Capital Group Ltd., that claims to be located in London, UK. However, the second company is not authorized by the FCA in the UK. As to the Swiss Cap Ltd., offshore registration usually doesn't guarantee the safety of funds and clients' protection, especially in the St. Vincent and the Grenadines, where local authority doesn't issue forex licenses. In addition, Capital Swiss FX and Swiss Capital Ltd. have also been blacklisted by the Swiss Financial Market Supervisory Authority (FINMA).
There are many negative reviews about the broker can be found online. People share their bad experience, pointing out cold calling and almost forcing clients to invest. They state that Capital Swiss FX refuses to withdraw their investments, offering to invest more.
Considering all the above, we would not recommend you investing with Capital Swiss FX. Instead, we advise our readers to avoid dealing with unregulated entities and choose among the reliable and regulated ones. There is a number of properly licensed firms, like the ones regulated by the FCA, ASIC or CySEC.
You can read our review on this broker here.