Fidelisdco withdraws CySEC license
November 18, 2019 at 09:24 AM
Fidelisco Markets Ltd investment firm known as Fidelisdco authorized by the Cyprus CySEC allowed to held international services and be legit within the EEA zone in particular recently decided to Voluntary Renunciation meaning Fidelisco is now wholly suspended from CIF license.
Read more regarding Fidelisco Markets Ltd decision by CySEC on 14 November 2019 by the link.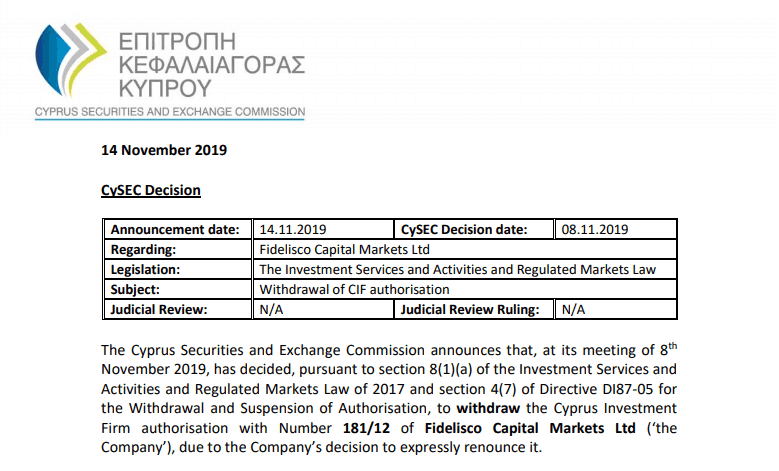 According to the CySEC announcement and as confirmed by the firm itself, Fidelisdco informed regulator by its plans as of 8th November to only serve representative office in Cyprus, without having a full operation branch. Fidelisco requested the surrender of license solely as a company decision, while it remains unclear what was its initial reason. Also, as CySEC manifests the Fidelisco company did not arise any regulatory action, yet appeared in its records as fined €15,000 for its misrepresenting actions back in 2015.
Therefore, or in simple words that mean that Fidelisdco as a suspended brand cannot advertise its business and must close activity under the Cyprus regulatory framework or either activity performed by Fidelisco Markets Ltd. They must also complete their own transactions and attribute to their clients either in accordance with instructions or return all funds and financial investments.

Fidelisdco itself was focused on trading opportunities and mainly concentrating on binary trading offering while the firm itself is authorized by few regulatory bodies it's already ex license from CySEC, FCA and license from Netherlands AFM.
Therefore, for your consideration you may check other CySEC regulated brokers from the list and see which broker does offer its regulated trading conditions.