Canadian IIROC review its Regulations
November 24, 2019 at 11:00 AM
As a pan-Canadian authority working with the intention to improve the trading regulation framework, IIROC recently develops reforms to align better outcomes for clients and make the nature of Forex trading more clearly within Canada and beyond.
Since IIROC believes that the proper management of the trading process and its rules should improve public confidence within the Canadian financial system together with overall investor protection, IIROC published amendments to its Regulations.
Amendments to IIROC rules and guidance will ensure alignment to the Client Focused Reforms that are also directed towards education rules, approved individuals and going to add on additional fees, as well as to expand regulated activities involving futures and options and apply to OTC derivatives alike CFDs and Forex. Read more about IIROC Proposed Derivatives Rule Modernization by the link.

Generally speaking, it means that the newly proposed amendment will align Canadian regulation more to the European ESMA regulatory framework, which may bring expand to the trading and better opportunities' for traders.
Important to note that recent notice is Stage 1 of further expand and application to necessary rules, which will be divided for few cycles as the first CE cycle affected by the Proposed Amendments will be effective as of January 1, 2020. Stage 2 will include more amendments mainly concerned margin requirements and leverage restrictions.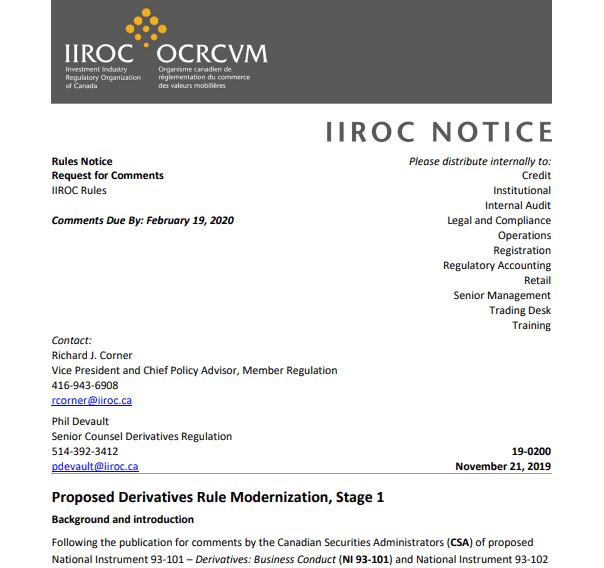 IIROC is the pan-Canadian regulatory organization that oversees investment dealers and the trading activity performed and offered in Canada. Within the industry, IIROC is recognized to its high quality scope of regulatory and investment industry standards, aligned to protect investors and strengthens market integrity.
There are numerous world known and global broker offering its attractive trading opportunities to both beginning and professional traders available for Canadian citizens, although sharply regulated by Canadian authorization and bringing vast options for trading. You may check out our list of Regulated Forex Brokers by the link and get to know more about offerings in a detail.