BDSwiss Receives Best Spreads and Trading Conditions 2022 Award by International Investor
June 21, 2022 at 09:36 PM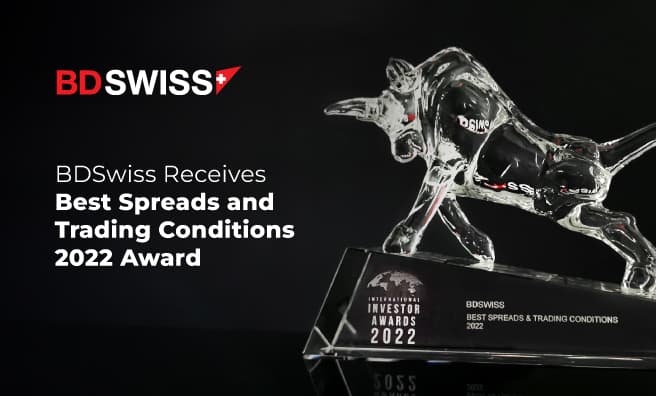 Leading financial services multi-asset broker BDSwiss was recently awarded with the "Best Spreads and Trading Conditions-2022" by International Investor Magazine, the awarding body and financial magazine.
The International Investor is a financial publication about investments and high-profile business. Every year the magazine's award is dedicated to recognizing excellence in all industries across the globe. By granting the award International Investor highlights the businesses that remain steady in delivering first rate service, opportunity, innovation, and performance.
One of the prestigious awards from long list of accolades, the Best Trading Conditions award was presented to BDS Markets, a BDSwiss brand company. It is a Mauritius regulated group with more than 1.5 million registered clients, in over 180 different countries. This IIM award only proves BDSwiss' globally trusted market presence and its dedication to exceeding client expectations by offering the best possible trading service and conditions. Following its consistant recognition in 2021, BDSwiss has renewed its commitment to delivering a world-class client experience in 2022. This time the broker combined the best of it – competitive pricing, exceptional execution speeds, and full transparency with regards to its services.
In his latest feature on International Investor Magazine, BDSwiss CEO Nicolas Shamtanis shared his insights on how today's fintech financial services firms can optimise client satisfaction, loyalty, and lifetime value by investing in digital and operational excellence:
"Brokers need to consider client experience as a decisive factor in their ability to achieve sustainable business growth. As fintech innovations and democratised access to the global financial markets become mainstream, value-added services including a best-in-class trading environment, real-time personalisation and access to quality financial education and research could become key differentiators for a fintech company.

In line with our mission to democratise finance for all, at BDSwiss we have committed to continue to deliver bespoke trading and investing fintech solutions under a comprehensive one-stop-shop, while providing our clients with the tools, conditions, support, and education they need to forge their financial future."