BDSwiss Launches its Latest Trade Mentoring Tool
April 27, 2022 at 10:04 PM
The leading Forex and CFD investment services institution BDSwiss has recently announced the launch of its proprietary performance analytics tool – Trade Companion. This tool was designed to provide traders with the insights they need to monitor, analyse, and improve their personal performance.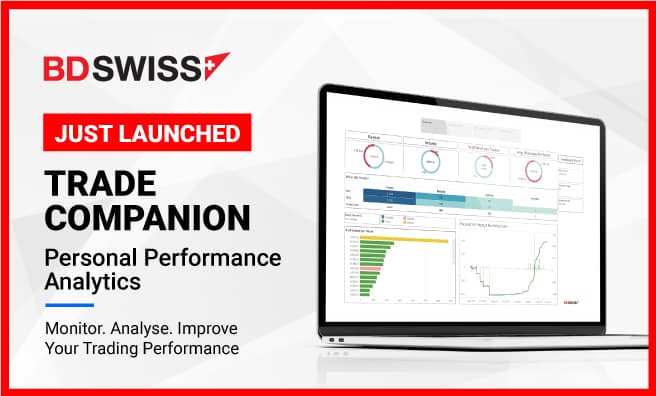 For over 10 years since its establishment, BDSwiss has been working on diversification and improvement of trading experience for their traders. However, with all the variety of aids for analysing and interpreting market trends, traders were lacking a tool that offered personalised analysis on real-time data derived from their own trading performance. This was the main reason for designing and developing Trade Companion.
After rigorous testing and the release of a beta phase to a select group of BDSwiss clients, Trade Companion is now available exclusively for VIP and Raw account holders as a free virtual trading mentor.
Exclusive Personal Analytics Tool
Trade Companion allows BDSwiss existing traders to observe underlying patterns in their trading. By examining their own trends, such as their 'win-loss percentage', 'pay-outs', and 'most traded assets', traders can now refine their trading strategies and make the most out of potential market entry points as they appear. The aim of this innovative tool is to offer traders an overview of their trading history and performance by displaying their preferred trading times, most used position types, and more.
This tool is available directly on the BDswiss Dashboard, and equips traders with the following key performance metrics:
Asset Analysis: A comprehensive analysis of which assets resulted in trading wins and/or losses over a select time frame, along with pay-outs.
Personal Trading History: An overview of volume, pay-outs, and profitability ratios that helps traders understand which asset classes they traded the most, and which trades resulted in maximum wins.
Analysis of Trade Durations and Times: Featuring scores of useful data, such as the impact of market opening times on trading performance, duration and profitability of open trades, order types, and more, these key metrics can help traders identify which trading times, market sessions, and order typeshave benefited them the most and are best suited for their trading strategies.
Committed to Addressing Traders' Needs
BDSwiss' latest tool, Trade Companion, offers traders the personal insights they need to identify their areas of improvement, trade with greater confidence, and unlock their true potential. BDSwiss Chief Commercial Officer, Manos Iosifakis commented on the launch:
"We all tend to have a biased view of our own performance. Our decision-making is less rational than we think, and that's where Trade Companion comes in. Trade Companion can be seen as a virtual private trading mentor of sorts, and we are delighted to be offering our clients a unique tool that enables them to gain deep personal insights into their own trading patterns and performance so they can establish more successful habits.

Having access to a visual representation of trading performance is useful in analysing personal trading patterns and in identifying what elements of one's strategy need to be tweaked. As the only tool of its kind on the market, Trade Companion is a testament to our long-standing commitment to our clients' success and our continuous efforts in offering the most contemporary trading tools available in the market."