Ghana Forex Brokers
Situated in the west of Africa country's economy is based on industrial minerals, precious metals, and hydrocarbons. Despite the economic hardship, the Ghana government has come up with an economic plan to become Africa's most economically stable country by the end of the decade, which also includes Forex trading development.
Forex Platforms in Ghana
In Ghana, forex trading is legal and regulated by the Bank of Ghana. Individuals and businesses can engage in forex trading through licensed forex brokers and platforms that are authorized by the Bank of Ghana.
To start forex trading in Ghana, you must open a forex trading account through a forex platform provided by the broker. You will also need to provide some personal information and documents to verify your identity and address.
It's important to note that the availability of trading platforms may vary depending on the forex broker you choose. Before opening a trading account, it's advisable to compare different forex brokers and their trading platforms to find one that suits your trading needs. Check MT4 or cTrader Brokers
Ghanaian traders can open accounts with international forex brokers, but they should be cautious and avoid scam brokers. Stick to brokers with top-tier regulations to ensure the safety of funds and achieve long-term success in forex trading.
Read more about forex trading on Wikipedia.
| Ghana Trading Pros | Ghana Trading Cons |
| --- | --- |
| High liquidity | Lack of transparency |
| Access to leverage | Offshore Brokers may attract traders from Ghana |
| Low trading costs | Lack of regulation as compared to other financial authorities |
| Access to Global Market | |
Forex Regulation in Ghana
Forex trading in Ghana is regulated by the Bank of Ghana, which is the country's central bank. The Bank of Ghana oversees and regulates all forex trading activities in the country through the Foreign Exchange Act, 2006 (Act 723), which provides guidelines and regulations for forex trading.
The official website of The Bank of Ghana is www.bog.gov.gh, also follow their official Twitter for regulatory updates – @thebankofghana.
Read our important notes about the Bank of Ghana and Trading for Ghana Traders:
The regulatory body imposes special laws and rules, which can keep some brokers away from Ghana's forex trading market and disable them to accept Ghana residents. However, there are still reliable brokers that are available for Ghana traders.
Forex brokers in Ghana are required to obtain a license from the Bank of Ghana to operate legally. The license requirements include maintaining minimum capital requirements, providing regular reports to the Bank of Ghana, and complying with anti-money laundering regulations.
The maximum leverage for forex trading in Ghana is currently set at 1:500 by the Bank of Ghana. This means that traders can trade with up to 500 times their trading capital.
Additionally, Ghana is a member of the West African Monetary Zone (WAMZ), which is a monetary union that aims to promote economic integration in the region. WAMZ has its own regulations for forex trading, which member countries are expected to adhere to.
Overall, forex trading in Ghana is well-regulated, and traders are protected by the laws and regulations set forth by the Bank of Ghana. It's important for traders to choose licensed brokers that comply with the regulations and follow the guidelines set forth by the Bank of Ghana to ensure a safe and successful trading experience.
Read more about the Bank of Ghana via Wikipedia.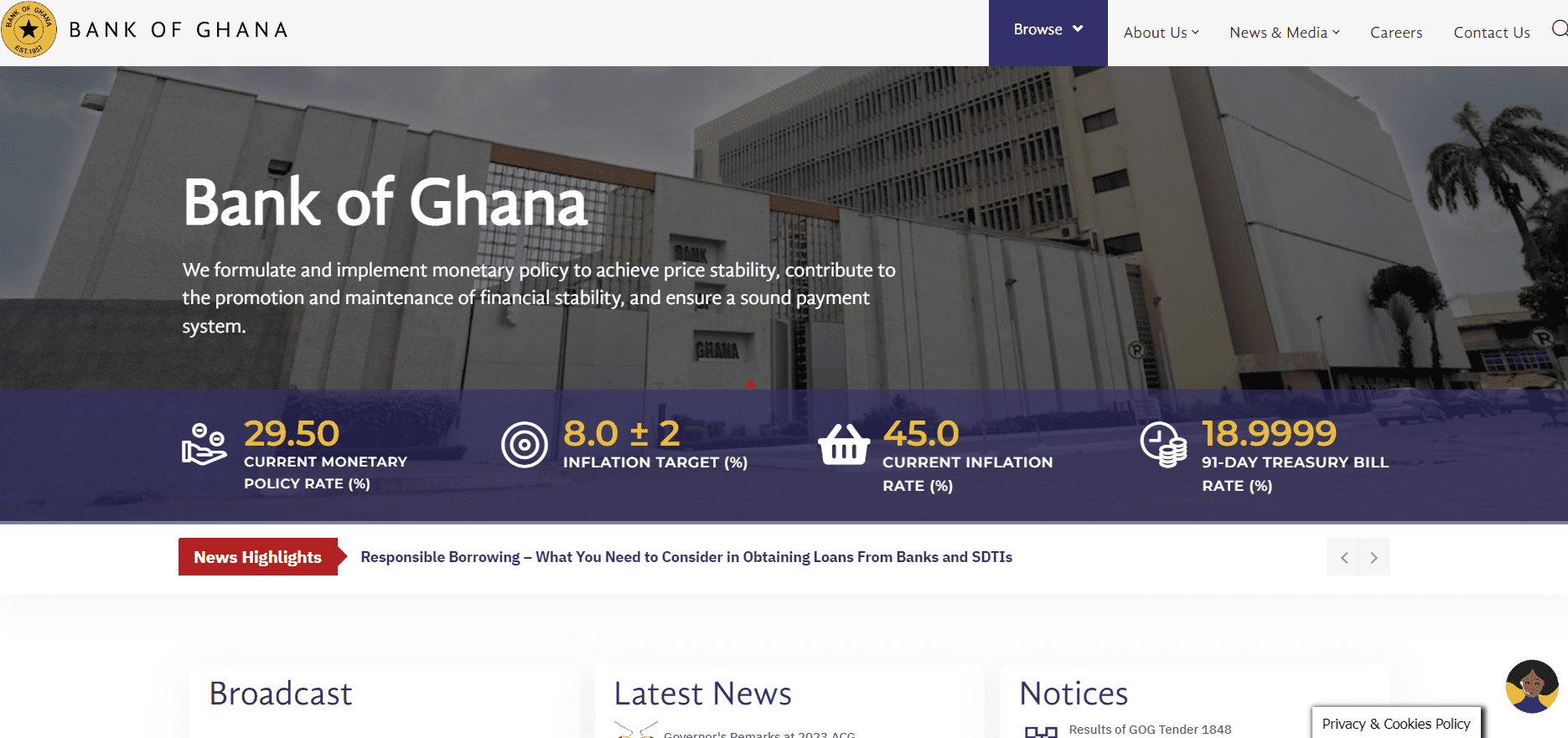 Top 5 Best Forex Brokers in Ghana
As the number of local forex brokers regulated by the Bank of Ghana is limited, we have compiled a list of highly reputable international forex brokers that accept traders from Ghana and are regulated by other top-tier financial authorities. It is strongly recommended to avoid brokers solely based in offshore zones due to the potentially high risks of capital loss.
What Is Pip in Forex Trading?
Pip is commonly defined as a percentage in point or price interest point. Pip is a measure of the exchange rate movement between two currencies. To put it short, a pip is one-hundredth of one percent. In forex exchange, a pip has a major role, as the movement in the exchange is measured by pips.
What is Spread in Forex for Ghana?
Spread in forex is one of the most essential concepts. It is the difference between a forex broker's sell rate and a buy rate when currencies are exchanged or traded. It depends on the involved currency of course, but spreads can be narrow or wider.
What Time Does the Forex Market Open in Ghana?
In Ghana Forex market opens at 8:00 AM GMT on Monday and closes at 4:00 PM GMT on Friday. This is because Ghana is in the Greenwich Mean Time (GMT) time zone, which is the same as the Coordinated Universal Time (UTC), however other timeszone let Traders access Forex Market 24/5.
Trading Brokers Forex Ghana List
Here is a list of regulated forex brokers that accept clients from Ghana mainly via its international branches. It is advisable to research the broker's trading conditions, reputation, and customer support to select the most suitable option.
Broker
Detail
HFM

Min. Deposit: 0 US$

Max. Leverage: 1:30 | 1:2000

Trading Platforms: MT4, MT5, HFM Trading App

Regulation: CySEC, FCA, DFSA, FSCA, FSA, CMA

HFM Review
Pepperstone

Min. Deposit: 200 US$

Max. Leverage: 1:30 to 1:400

Trading Platforms: MT4, MT5, cTrader, TradingView

Regulation: ASIC, FCA, DFSA, SCB, CMA, CySEC, BaFIN

Pepperstone Review
BlackBull Markets

Min. Deposit: 0 US$

Max. Leverage: 1:500

Trading Platforms: MT4, MT5

Regulation: FMA, FSA

BlackBull Markets Review
FP Markets

Min. Deposit: 100 US$

Max. Leverage: 1:30

Trading Platforms: IRESS, MT4, MT5, cTrader

Regulation: ASIC, CySEC, St. Vincent and the Grenadines, FSP

FP Markets Review
BDSwiss

Min. Deposit: 100 US$

Max. Leverage: 1:500

Trading Platforms: MT4, MT5, BDSwiss Webtrader and App

Regulation: FSC, FSA

BDSwiss Review
GO Markets

Min. Deposit: 0 US$

Max. Leverage: 1:30, 1:500

Trading Platforms: MT4, MT5, cTrader, WebTrader

Regulation: ASIC, CySEC, FSC, FSA

GO Markets Review
FBS

Min. Deposit: 1 USD

Max. Leverage: 1:3000

Trading Platforms: MT4, MT5, FBS trader

Regulation: CySEC, FSC, FSCA, ASIC

FBS Review
Eightcap

Min. Deposit: 100 US$

Max. Leverage: 1:500

Trading Platforms: MT4, MT5, TradingView

Regulation: ASIC, SCB, CySEC

Eightcap Review
Orbex

Min. Deposit: US$100

Max. Leverage: 1:500

Trading Platforms: MT4

Regulation: MFSC

Orbex Review
FXCC

Min. Deposit: No minimum deposit

Max. Leverage: 1:30 | 1:500

Trading Platforms: MT4

Regulation: CySEC, SVG FSA

FXCC Review