Singapore MAS now regulates Cryptocurrencies
November 23, 2019 at 11:00 AM
Since 20 November 2019, the Monetary Authority of Singapore MAS allows payment token derivatives as a regulated asset through Approved Exchanges to be traded as per regulatory activity.
Singapore is a world known business destination and financial hub, which accommodates vast companies from various market segments, as well operate numerous Financial sector firms providing Trading, Banking, Securities, Insurances and Investment Solutions. Due to the growing demand and the development strategy Singapore is passing through, and with its established competent regulation of the financial services – Monetary Authority of Singapore, known as MAS jurisdiction constantly updates its guidelines together with world financial trends. Discover more about MAS by the link.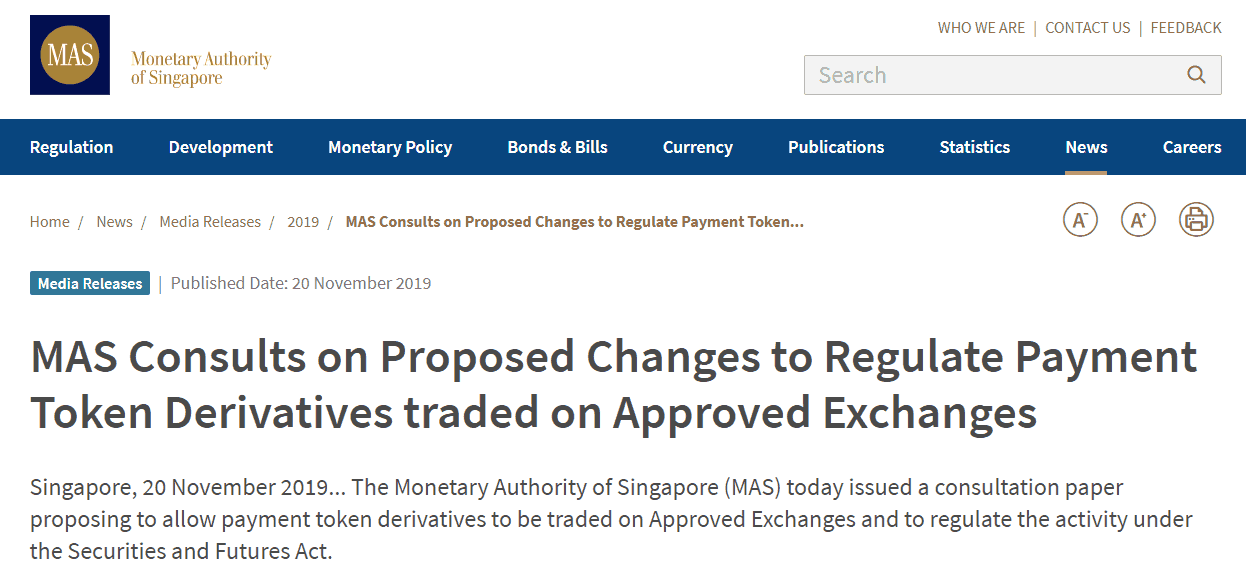 Recently, Singapore and its MAS authority recognized the international interest in payment tokens alike Bitcoin and Ether and added them as regulated products in order to gain exposure to markets. Therefore, investors may manage position rest assured tokens falling under regulatory oversight in reverse bringing larger investment opportunities.
Although, tokens will be available through the Approved Exchanges including APEX, SGX and ICE Future for both institutional and retail traders. Yet, MAS mentions that payment tokens are not suitable for most retail investors due to its difficulty to value and volatility, retail traders still able to execute orders just with higher prices or additional margins, and should exercise extreme caution while trading.

In fact, there are many Forex brokers in Singapore that growing as a leading destination provider of online trading services or the largest financial portal with comprehensive regulation enabled by MAS that allows development and invest mainly in the Asian region and beyond as well. However, always make sure to check on the legal information before you sign with any broker, as Singapore is also known for its numerous scams all around. You may check Regulated Forex Brokers by the link and get to know about offering in a detail and select the suitable one.