US Jobs Market Deteriorates, Investors Don't Care
August 3, 2022 at 06:49 PM
The recent data from the US jobs market disappointed market participants. However, they were ignored, and US equity markets continued to rip higher. So let's take a quick look at some of the key indicators.

Initial Claims Trending Higher
Although the labor market is supposedly "too robust to be in recession," anyone who bothers to look at higher frequency data will see that story disintegrating quickly as initial unemployment claims increased to 256k last week (worse than the 250k expected).
The 4-week average of new claims is currently at its highest level since November 2021, while continuing claims continue to stagnate.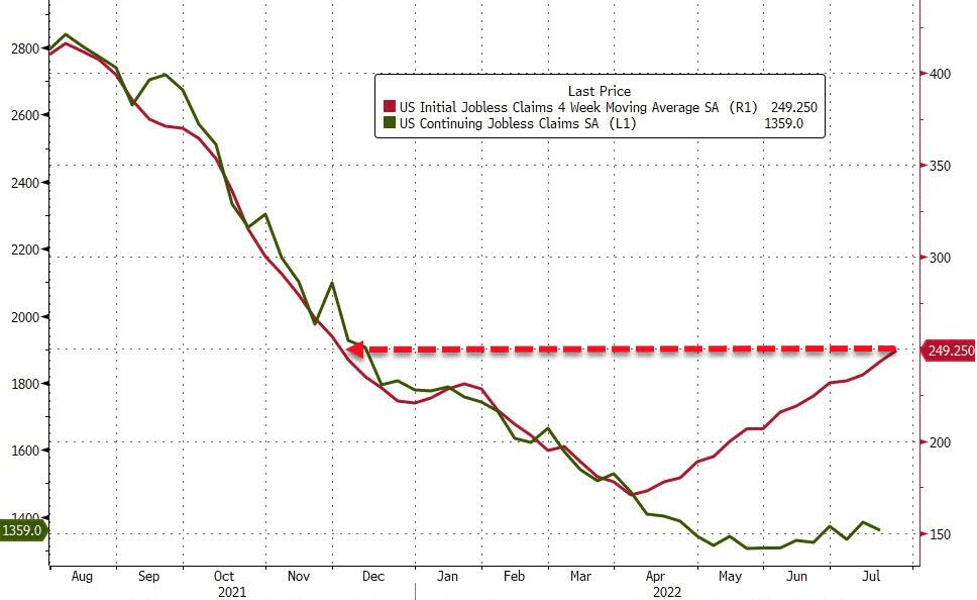 JOLTS Job Openings Disappoint
Additionally, there were fewer job opportunities in June than was previously thought.
According to the Job Openings and Labor Turnover Survey (JOLTS) by the Labor Department, there were 10.7 million open positions in the United States on the final day of June, which is less than what economists had projected and the lowest number since September. From the upwardly revised May total of 11.3 million, there was a decline of 605,000. Since reaching a record high in March, the number of openings has decreased each month.
Jobs in the retail trade accounted for more than half of the loss (-343,000). Wholesale trade (-82,000) and state and local government education also significantly reduced (-62,000). On the other hand, openings in the health and education sectors grew by 99,000.
4.24 million people left their jobs, which is the fewest since October. Construction had a decline in resignations (-51,000), while state and local government education saw a rise (+14,000).
The JOLTS report painted an almost uncomfortably strong picture of the US labor market up until May. Still, it finally cracked in June, with job openings falling at the second-fastest rate ever (only the Covid crash months were worse). Since the US is now technically in a recession, we anticipate that July and the following months will be much worse.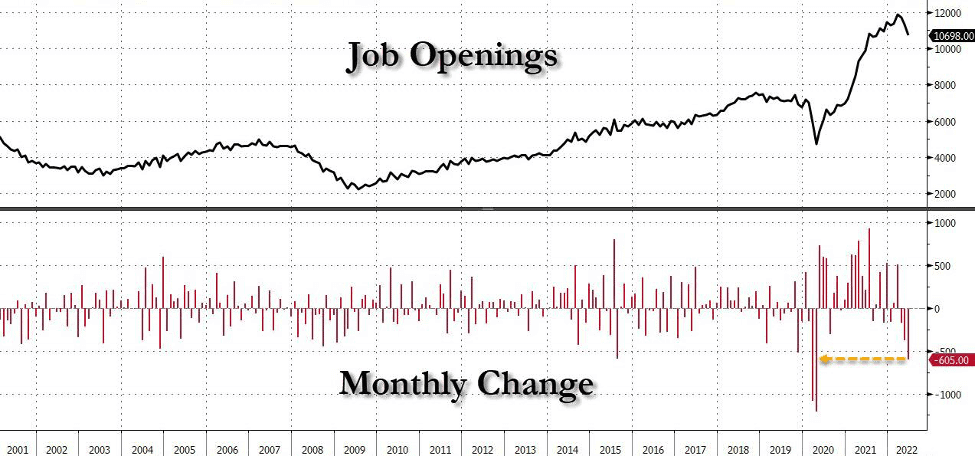 Non-farm Payrolls Due
The non-farm payroll data on Friday will also reveal whether businesses continued to hire in July after adding 372,000 positions in June or whether economic uncertainty caused them to cut down. The official consensus is at 250,000 new jobs in July, while the unemployment rate is expected to stay at 3.6%.
Volatility will indeed be elevated following the data, with investors repricing the hawkish expectations of monetary policy; despite no assurances by the Fed, it has changed its plans to hike rates.