Orbex to Exhibit at the Fintech & Crypto Summit Bahrain, as Diamond Sponsor
January 30, 2023 at 02:18 PM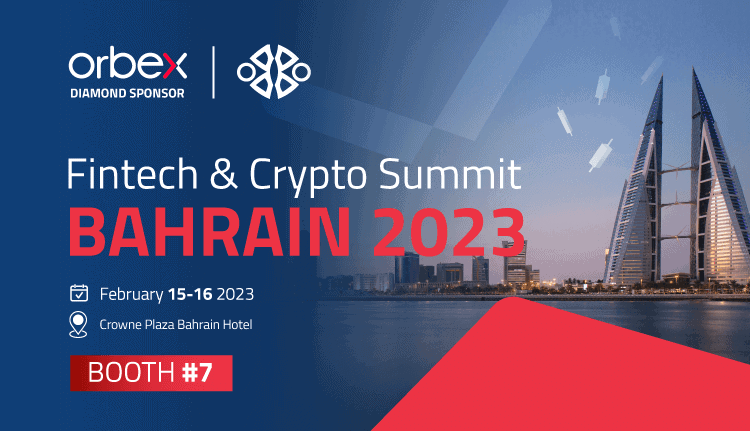 Orbex – a global multi-regulated financial services broker- has made an important announcement regarding its participation at the upcoming Fintech & Crypto Summit in Bahrain as a Diamond sponsor. In its turn, this is a perfect opportunity for Orbex to showcase its trading services and partnership opportunities at the largest fintech and cryptocurrency event in Bahrain. The location of the summit is the Crown Plaza Bahrain Hotel. On February 15 and 16, 2023, potential business partners and merchants are given a chance to speak with the Orbex team at booth 7.
The Fintech & Crypto Summit will enable the attendees to network, explore the most recent industry trends, and hear from the biggest names in the fintech and cryptocurrency space. One of the main dedications of the summit is promoting Bahrain as a key hub for the Middle Eastern fintech and cryptocurrency industry. Tens of thousands of traders and top industry figures are anticipated to attend, and the event will feature a variety of presentations and panel discussions that will allow guests to learn about the newest fintech products and developments.
Orbex's delegation will represent different functions of the company, such as marketing, partnerships, and business development. Also, the team will give the expo visitors an opportunity to have one-on-one meetings and discuss trading, business, affiliation, and IB opportunities. Orbex's renowned Research Team will also travel to Bahrain to attend the summit and present their insights on the global markets and online trading during various talks and panel discussions.
Orbex Chairman Abdallah Abbas commented on Orbex's Diamond sponsorship of this year's Bahrain Fintech & Crypto Summit emphasizing how proud the company is to exhibit at the largest fintech and cryptocurrency summit in Bahrain – a country representing the company's stronghold. He also added that in recent years, Bahrain has fast-tracked its way to becoming a leading fintech and cryptocurrency hub in the Middle East, and the 2023 Fintech & Crypto Summit provides the perfect chance for Orbex to showcase the latest trading innovations and partnership opportunities.
About Orbex
Orbex is a leading global investment services firm offering award-winning forex and CFD trading services at some of the most competitive conditions. Since its inception in 2011, Orbex has committed to providing access to first-in-class trading and investing solutions that are backed by leading education, expert research tools, and the ongoing support needed to assist clients in navigating the global financial markets.