Kenya Forex Trading
Forex Trading in Kenya has recently become popular among its residents. Kenya is considered to be one of the largest and most productive economies in Africa which results in emerging of Forex brokers and the growth of Kenyan traders. Yet, it is still important to be well-informed about Forex trading in Kenya, regulations, and requirements to know which brokers are safe to invest and trade with. 
Forex Platform in Kenya
The forex market is legal in Kenya. The forex market operates under the oversight of the Capital Markets Authority (CMA), which is the regulatory body responsible for ensuring that all forex brokers adhere to strict rules and regulations to protect investors.
To legally operate in Kenya, forex brokers must obtain a license from the CMA, maintain minimum capital requirements, segregate clients' funds from their own operational funds, contribute to an investor compensation fund, and comply with anti-money laundering (AML) and know-your-customer (KYC) regulations, among other requirements.
For the traders, it is essential to choose a forex broker or platform that is regulated by the CMA to ensure safe and secure trading environment, other Brokers regulated in US or Europe may restrict oopening of the accounts for Kenya Traders
Kenyan traders can always choose to trade with international forex brokers, which are widely available now. However, it is important to exercise caution when selecting a broker outside of Kenya and choose only those that hold additional Top-tier licenses for better ssafety applied (i.e. FCA, CySEC, etc.)
For more information on Forex Market visit Wikipedia.
| Kenya Trading Pros | Kenya Trading Cons |
| --- | --- |
| Growing market with High Liquidity | Limited market size |
| International Brokers available | Limited financial instruments |
| Favorable tax conditions | Lack of compensation |
| Low transaction costs | Many Scam Brokers target Kenya |
| International exposure | |
Kenya Forex Regulations
The main regulatory body in Kenya is the Capital Markets Authority (CMA), formed in 1989 and responsible for supervising, licensing, and monitoring Forex business in the country. All the Forex brokers in Kenya are recommended to get licensed by the CMA.
In order to get more information on broker's licensing or check the records in the regulators register, check the CMA Website. We also recommend following their official Twitter account for important regulatory updates — @CMAKenya.
Also, take a look at our important notes regarding Kenyan regulations and Forex Trading Conditions:
The CMA is a reliable and respected regulator that abides by strict rules and guarantees investors' protection. There is a downside though, the CMA does not have a compensation scheme for the traders.

 

The Central Bank of Kenya (CBK) also plays a vital role in the forex market by setting monetary policy, managing foreign reserves, and overseeing the stability of the Kenyan shilling (KES).
CMA in Kenya does not impose a maximum leverage limit on licensed forex brokers. As a result, some top brokers in the country provide leverages as high as 400:1 for forex trading in Kenya which is considered highly risky too
Before diving into forex trading, it's essential to educate yourself about the market and develop a trading strategy based on technical analysis, fundamental analysis, or a combination of both.
Kenyan forex traders should opt for a trustworthy and regulated broker to prevent scams, acquire knowledge on forex trading, establish and adhere to a trading plan, devise a risk management strategy, practice trading using a demo account, stay up-to-date and well-informed, and monitor global financial market news.
Overall, the forex market in Kenya has witnessed significant growth in recent years. The rising popularity of forex trading among retail traders, coupled with advancements in technology, has contributed to the expansion of the market. 
For further information about Kenyan CMA visit Wikipedia.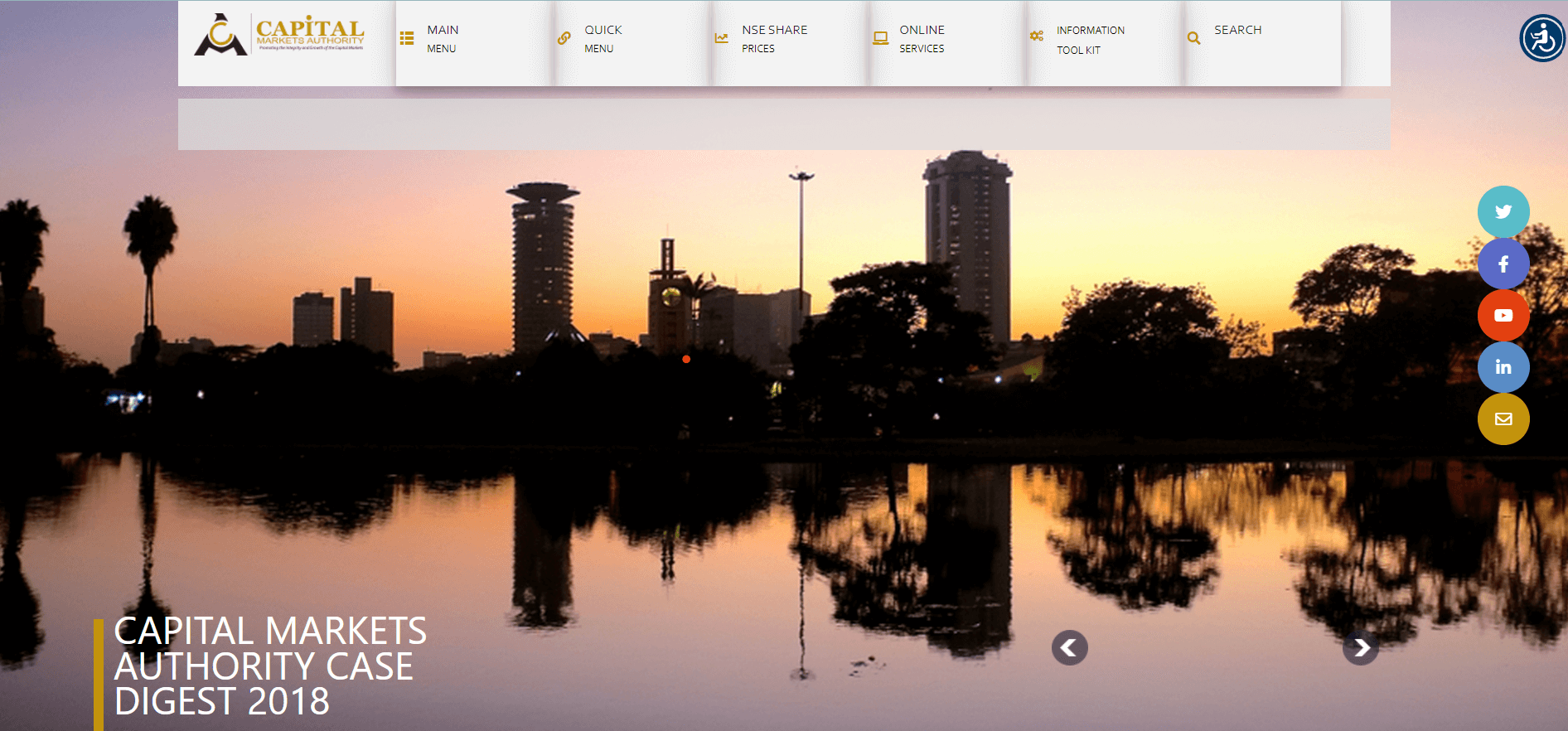 Top 5 Best Forex Brokers in Kenya
Our list of Brokers in Kenya consists of the Regulated brokers with good record of operation and standards. So this shortlisted selection is advised and safe to invest with, also defined according to the narrowed criteria:
Which Forex Broker is the Best in Kenya?
Firstly, a good broker is a licensed broker, not necessarily licensed by Kenya CMA, but also by any other well-respected authority that allows brokers to accept traders from Kenya. Secondly, the broker's offer itself should have good trading conditions, proper education, and support. Some of the best Forex brokers in Kenya are Pepperstone and HFM.
Do forex traders pay tax in Kenya?
Yes, forex traders in Kenya are required to pay taxes on their profits. The Kenya Revenue Authority (KRA) may classify forex trading income as capital gains or business income, depending on the trader's activities. Capital Gains Tax (CGT) rate is 5% on net gain, while business income is subject to income tax rates based on the trader's income bracket.
What is the best time to trade forex in Kenya?
In Kenya, the optimal time for forex trading is between 11:00 and 17:00 East Africa Time, as the market experiences high liquidity and a significant volume of economic news during this period. This allows traders to potentially capitalize on the volatility that follows news releases.
Kenya Forex Brokers List
This is our comprehensive list of well-regulated international brokers that accept clients from Kenya. We strongly recommend selecting brokers with additional top-tier regulations and avoiding those that are only offshore based Brokers:
Broker
Detail
FXOpen

Min. Deposit: $1

Max. Leverage: 1:30

Trading Platforms: MT4, MT5, TickTrader

Regulation: FCA, CySEC, ASIC

FXOpen Review
ATC Brokers

Min. Deposit: $5,000

Max. Leverage: 1:30 | 1:200

Trading Platforms: MT4, MT Pro

Regulation: FCA, CIMA

ATC Brokers Review
Skilling

Min. Deposit: US$100

Max. Leverage: 1:30 | 1:500

Trading Platforms: MT4, cTrader, Skilling Trader

Regulation: CySEC, FSA

Skilling Review
ADS Securities

Min. Deposit: $100

Max. Leverage: 1:30 | 1:500

Trading Platforms: OREX, MT4

Regulation: SCA, FCA, SFC

ADS Securities Review
GKFX Prime

Min. Deposit: $0

Max. Leverage: 1:1000

Trading Platforms: MT4. MT5, Social Trading

Regulation: FSC BVI, SECC

GKFX Prime Review